A Simple To Use Web Tactic That Keeps Making You Money Even AFTER You've Made The Sale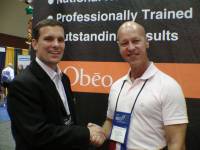 When was the last time you implemented a web marketing tactic that actually helped sell your listing, attracted new clients AND got you referrals from another agent's buyers?
Recently I interviewed Glade Jones CEO of OBEO.com and this is exactly what is happening with their real estate agents that are using Obeo as part of their online marketing strategy.
Virtual tours have come a long way since the day of a moving still photo. Buyers can now interact with panoramic views, arrange their virtual furniture, change the wall colorings and so much more.
And here's the thing, the more you can engage a potential home Buyer or Home Seller, the more likely there are to choose you as the agent they want to work with over your competition.
Click here to Watch The Video Interview I did with Glade.
All Good Wishes,
michael krisa aka That Interview Guy
Want instant access to great articles like this for your blog or newsletter? Check out our
30-day FREE trial of REsource
Licensed Real Estate Content Solutions. Need easy stay-in-touch e-Marketing solutions too?
Try Pop-a-Note for 99 cents!
Join RISMedia on 
Twitter
and
Facebook
to connect with us and share your thoughts on this and other topics.
Copyright© 2014 RISMedia, The Leader in Real Estate Information Systems and Real Estate News. All Rights Reserved. This material may not be republished without permission from RISMedia.
Content on this website is copyrighted and may not be redistributed without express written permission from RISMedia. Access to RISMedia archives and thousands of articles like this, as well as consumer real estate videos, are available through RISMedia's REsource Licensed Content Solutions. Offering the industry's most comprehensive and affordable content packages. Click here to learn more! http://resource.rismedia.com