Don't Waste Another Nickle On Marketing … Until You Have A Plan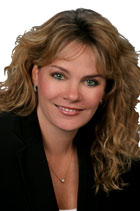 Julie Escobar: Creating a Marketing Plan
While wondering the floors at the NAR convention in Orlando I had the opportunity to spend some time with Julie Escobar.
Julie is the Director of Corporate Marketing for Prospects Plus.
Here is a gal that really knows her stuff when it comes to helping real estate professionals get a return on their marketing investment.
That's right … investment.
When you have a well orchestrated marketing plan executed it is an investment in your business and your financial future.
I did with Julie as she shares some valuable insights that will have a impact on your bottom line.
All Good Wishes,
michael krisa aka That Interview Guy
Want instant access to great articles like this for your blog or newsletter? Check out our
30-day FREE trial of REsource
Licensed Real Estate Content Solutions. Need easy stay-in-touch e-Marketing solutions too?
Try Pop-a-Note for 99 cents!
Join RISMedia on 
Twitter
and
Facebook
to connect with us and share your thoughts on this and other topics.
Copyright© 2014 RISMedia, The Leader in Real Estate Information Systems and Real Estate News. All Rights Reserved. This material may not be republished without permission from RISMedia.
Content on this website is copyrighted and may not be redistributed without express written permission from RISMedia. Access to RISMedia archives and thousands of articles like this, as well as consumer real estate videos, are available through RISMedia's REsource Licensed Content Solutions. Offering the industry's most comprehensive and affordable content packages. Click here to learn more! http://resource.rismedia.com