So What Are "these basics" That Everyone Says You Need To Succeed In Today's Market?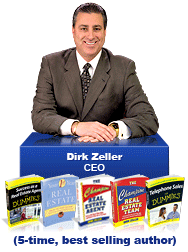 Dirk Zeller is the President and head coach of Real Estate Champions. Real Estate Champions is a one-on-one coaching company who coaches some of the nation's "top gun" agents for success.
Dirk collected numerous awards during his real estate career with RE/MAX including the Hall of Fame, Platinum Club, and was a regular Top Ten producer in a four state, 1,500 agent region in commission earned and units sold.
I ran into Dirk recently and got him to stay still long enough to shoot this short video where we discuss some of the things real estate sales professionals absolutely need to be doing to be success in this market.
Click here to watch the short Video Interview I did with Dirk.
All Good Wishes,
michael krisa aka That Interview Guy
Want instant access to great articles like this for your blog or newsletter? Check out our
30-day FREE trial of REsource
Licensed Real Estate Content Solutions. Need easy stay-in-touch e-Marketing solutions too?
Try Pop-a-Note for 99 cents!
Join RISMedia on 
Twitter
and
Facebook
to connect with us and share your thoughts on this and other topics.
Copyright© 2014 RISMedia, The Leader in Real Estate Information Systems and Real Estate News. All Rights Reserved. This material may not be republished without permission from RISMedia.
Content on this website is copyrighted and may not be redistributed without express written permission from RISMedia. Access to RISMedia archives and thousands of articles like this, as well as consumer real estate videos, are available through RISMedia's REsource Licensed Content Solutions. Offering the industry's most comprehensive and affordable content packages. Click here to learn more! http://resource.rismedia.com