Negotiation: Make It Your Long Suit
By Barbara Pronin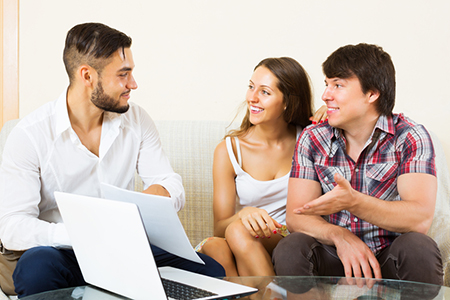 As savvy real estate professionals know, being a good negotiator means a whole lot more than coming to terms on price. A good negotiator creates a win-win feeling on the part of both buyer and seller – a rewarding transaction that meets their needs and inspires the kind of long-term loyalty that helps build successful careers.

How good a negotiator are you? Whether you represent the buyer or seller, here are four things you can do to up the chances of making a deal by creating that win-win feeling:
Be a great listener – The more you know about the goals of both parties, the more prepared you will be. Talk to your client. Talk to the other agent. Research the property history. Why does the seller want to move – and when? How many homes has the buyer already looked at? Sellers who need to move quickly may turn down a full-price offer from someone who needs time to sell another home in favor of a buyer who offers less but agrees to close in 30 days.
Build respect – It's always advantageous to know that the buyer has some wiggle room in her offer – or that the seller is anxious to sell. But sharing too much information with either party about the other can lead to wariness and mistrust. Being sincere, staying in touch, and following up on what you say you will do builds confidence in both parties that you can be trusted to represent them.
Discuss alternatives upfront – People can be stubborn or nitpick the details, and negotiations can take unexpected turns. Assure your clients that you will do your best to fulfill their goals, but prepare them for alternative options and create a plan of action they can live with. What will your buyer want to do if the seller won't budge on price? Would your seller be willing to replace the carpets or offer a generous discount?
Make a reasonable first offer – Going back and forth with offers and counter offers is aggravating and stressful for all parties. Once you have prepared your client, write and submit a realistic first offer you believe will be accepted, including the details you believe are most important to your client in order to make the deal come together.
Why not single out one of these suggestions, and try to work on it over during the next month? Circle back and see whether you've made any progress.

Barbara Pronin is an award-winning writer based in Orange County, Calif. A former news editor with more than 30 years of experience in journalism and corporate communications, she has specialized in real estate topics for over a decade.

Click on any icon below to share this article:

RISMedia welcomes your questions and comments. Send your e-mail to: realestatemagazinefeedback@rismedia.com.


Copyright© 2018 RISMedia, The Leader in Real Estate Information Systems and Real Estate News. All Rights Reserved. This material may not be republished without permission.