Top Apps for Busy Real Estate Pros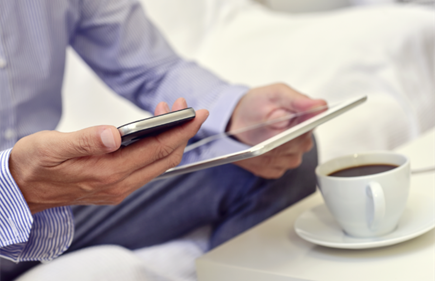 Since real estate is centered around an on-the-go lifestyle, applications on your smartphone or tablet can make it easier to keep up with your goals even when you're out of the office. To save you time, help you stay on track, and take out the guesswork, here are some of the top apps for real estate professionals.

Organization
With your busy lifestyle, maintaining your organization can be difficult. Use these apps to ensure you're prepared for whatever happens.
Circleback: Clean, complete, and merge your duplicate contacts so your address book is always up to date.
Expensify: Allows you to virtually keep track of your receipts so managing your expenses is easy and efficient.
Pocket: Pocket is an easy-to-use bookmark tool that helps you to save content and articles you find on the web to your "pocket," making it easy to access for your blog or newsletters later.
Productivity
These productivity apps can help you save time while still accomplishing everything on your to-do list and keep your life (relatively) stress free.
Notability: Use this app to write notes, type up quick documents, sign and share contracts, and for general organization and workflow creation.
SignEasy: If you're always on the go, it can be nearly impossible to get back to your office every time you need to print and sign something. With SignEasy, you can "draw" your signature and start signing mobile documents on your phone without having to drop what you're doing.
SwiftKey: The Swiftkey app helps you type messages faster and more accurately with smarter, personalized word prediction.
Social
Social media is still one of the best ways to keep in touch with current clients and stay top-of-mind with potential ones. Here are some apps that can take your social game to the next level.
Hyperlapse: The ultimate source for polished time-lapse videos. Use this to create 15-20 second property and neighborhood tours or use it to recap your open house!
Facebook Ad Manager: This app is an incredible time saver for on-the-go agents. Facebook now allows agents to check their campaign's progress, as well as edit and create ads right from their phones!
Periscope: Allowing users to stream live videos from anywhere, Periscope is a great way to connect with potential clients across town or across the world. Stream open house tours, home sneak peeks, local events, or a Q&A session.
Adapted from a RISMedia.com article by Joe Sesso, Homes.com national speaker.



This material is meant for general illustration and/or informational purposes only. Although the information has been gathered from sources believed to be reliable, no representation is made as to its accuracy. This material is not intended to be construed as legal, tax or investment advice. You are encouraged to consult your legal, tax or investment professional for specific advice.

Click on any icon below to share this article:
RISMedia welcomes your questions and comments. Send your e-mail to: realestatemagazinefeedback@rismedia.com.
Copyright© 2018 RISMedia, The Leader in Real Estate Information Systems and Real Estate News. All Rights Reserved. This material may not be republished without permission.