5 Tips to Create a Positive First Impression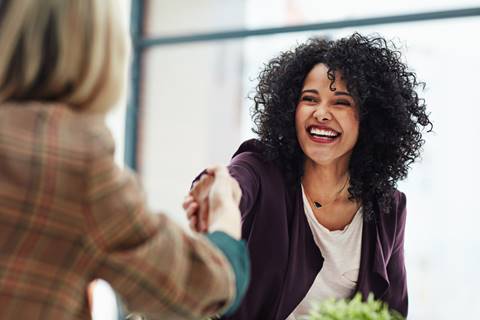 Did you know it takes only three to five seconds for someone to form a first impression about you? And while you might wish that opinion was based on your intelligence or experience, most studies show that first impressions are shaped by what can be seen or heard in those initial few seconds.

One way to ensure a positive first impression is by managing your image. According to the Image Consulting Business institute, image management is "a science and art that provides a framework, addressing all the elements – clothing, grooming practices, body language, etiquette, and vocal communication." Image management is important for creating positive first impressions because it helps you:
Control and enhance what others see/perceive
Project trustworthiness
Inspire confidence in your abilities
Exude friendliness, approachability and likeability
Open doors to opportunities
What does your current image say about you? Take a few minutes to think about how you come across to others and jot down a few notes, then utilize the following five tips to determine ways you could change/improve your image to inspire a more positive first impression.

Tip #1: Be mindful of how you appear to others. From head to toe, you want to be sure that you are portraying the image that presents you in the best possible light. If you want people to view you as professional, ask yourself, "do my clothing, jewelry, and makeup choice reflect my individual professionalism?" If not, consult with a personal stylist for an updated style or sit down with a make-up artist to create a different look.

Tip #2: Be on time. Nothing shoots you down faster than being late for an initial appointment or meeting – even just a minute or two. Always give yourself more than enough time, allowing for traffic delays or parking hassles. Always be on time.

Tip #3: Role-play your verbal and nonverbal communication. Speak clearly, professionally, and at an appropriate pace and volume level when meeting someone for the first time. Ask a friend to role-play and look for ways you can modify your verbal communication to create an improved first impression.

Tip #4: Evaluate your non-verbal communication. Practice non-verbal communication, such as shaking hands firmly and establishing good eye contact, to ensure you aren't doing anything that could damage a good first impression.

Tip #5: Examine your attitude. Your attitude shows through in everything you do. Project a positive attitude, even in the face of criticism or if you're feeling nervous. Strive to learn from your meeting and to contribute appropriately, maintaining an upbeat manner and a smile.

Taking the time to manage your image will improve your chances of making a positive first impression in those initial three to five seconds, and will help you exude confidence and trustworthiness in almost any situation.

Adapted from an article on Forbes.com by Lisa Quast, career coach, business consultant and former Fortune 500 executive.



This material is meant for general illustration and/or informational purposes only. Although the information has been gathered from sources believed to be reliable, no representation is made as to its accuracy. This material is not intended to be construed as legal, tax or investment advice. You are encouraged to consult your legal, tax or investment professional for specific advice.



Click on any icon below to share this article:

RISMedia welcomes your questions and comments. Send your e-mail to: realestatemagazinefeedback@rismedia.com.


Copyright© 2018 RISMedia, The Leader in Real Estate Information Systems and Real Estate News. All Rights Reserved. This material may not be republished without permission.