5 Red Flags in The Title Process
By Barbara Pronin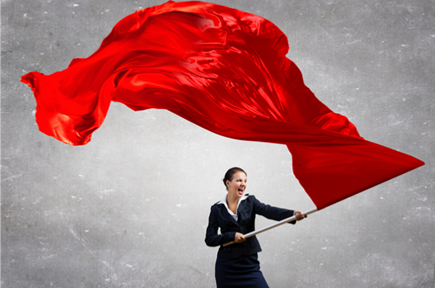 As a real estate professional, you've worked long and hard to bring the deal together, dotting every i and crossing every t with the expectation that taking care will help bring the transaction to a timely, worry-free closing.

But sometimes, there are extenuating factors that you – and even the buyer or seller – may not know or disclose. As your title partner, our goal is to find and correct such factors with little disruption or delay, and to let you know when a problem arises that may affect a timely closing.

Here are some of the most common behind-the-scene situations that must be brought to resolution before your transaction can close:
Court orders or judgments – These often involve support judgements issued when child or spousal support is owed by someone on the title commitment. It can take a few weeks to get a demand and release from the district attorney/creditor.
Encroachments – When a fence, driveway or other structure encroaches on a property, the buyer may agree to take the property subject to the encroachment. But sometimes, a lender will not want to lend on a property with an encroachment. An endorsement to the lender's policy (sometimes at additional cost) may be needed to close.
Notice of violation – If a property violates a local statute, such as zoning, noise or nuisance laws, the violation is often recorded by local enforcement departments. A lender may require that the violation be resolved or eliminated, and a release received from the enforcing agency, in order for the transaction to close.
Notice of pending action – This means that someone has filed a pending lawsuit that may affect title to the property, as sometimes happens during an acrimonious divorce situation when the plaintiff wants money before releasing claim. In such cases, the situation must be resolved and a legal withdrawal document recorded before the transaction can close.
Bankruptcy – Open bankruptcies require the debtor to get permission from the court in order to sell a home or take on new debt – and a letter from the bankruptcy trustee must be obtained prior to closing. (Sometimes, the trustee will require at closing that a payment be made to the court.)
Barbara Pronin is an award-winning writer based in Orange County, Calif. A former news editor with more than 30 years of experience in journalism and corporate communications, she has specialized in real estate topics for over a decade.

Click on any icon below to share this article:
RISMedia welcomes your questions and comments. Send your e-mail to: realestatemagazinefeedback@rismedia.com.
Copyright© 2018 RISMedia, The Leader in Real Estate Information Systems and Real Estate News. All Rights Reserved. This material may not be republished without permission.