The ABC's of All-Cash Offers
By Barbara Pronin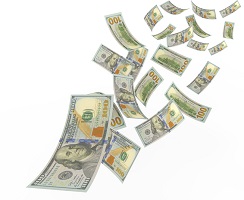 An all-cash offer can be a winning tactic, especially when your buyer is facing competitive offers. In fact, recent statistics from the National Association of Realtors (NAR) suggest all-cash purchases currently make up about 33 percent of the market.

For one thing, many baby boomers may have cash accumulated after decades of building equity. For another, more foreign investors are paying cash for American properties.

An all-cash offer can be attractive to a seller because they stand a better chance of closing on time and with fewer conditions, that could cause complications.

But some buyers who offer cash in order to beat out competitors – and perhaps at a discounted price – will seek financing after the fact.

While there is nothing illegal about that practice, agents who are writing an all-cash offer can protect themselves, the sale, and even the seller by being aware of these specifics:
Proof of cash – Proof of cash must be authenticated, either with a bank statement from the buyer or with documented liquid stocks. (A buyer who plans to get funds for closing by selling another property or with funds coming from overseas, or a possible FIRPTA refinance, may run into complications.) Typically, verification of the buyer's cash availability must be attached to the offer or submitted within a certain number of days.
No contingency – The contract must contain no financial contingency.
No delays or seller costs – Section 13 of the VA contract allows the buyer to change the type of financing at any time, as long as it does not delay the closing or cost the seller any money.
No release of obligation – If the buyer seeks alternative funding, the seller is not obligated to cooperate in that effort. A buyer who is unable to secure the necessary financing is not excused from the obligation to purchase the property and close as specified in the purchase agreement.
Closing/settlement – When closing day arrives, the seller won't care if the buyer brings their own cash from a lender. But if there's a glitch and cash is not forthcoming, the buyer may be held in default.
Barbara Pronin is an award-winning writer based in Orange County, Calif. A former news editor with more than 30 years of experience in journalism and corporate communications, she has specialized in real estate topics for over a decade.

Click on any icon below to share this article:
RISMedia welcomes your questions and comments. Send your e-mail to: realestatemagazinefeedback@rismedia.com.
Copyright© 2019 RISMedia, The Leader in Real Estate Information Systems and Real Estate News. All Rights Reserved. This material may not be republished without permission.