Is Your Home Retirement-Ready?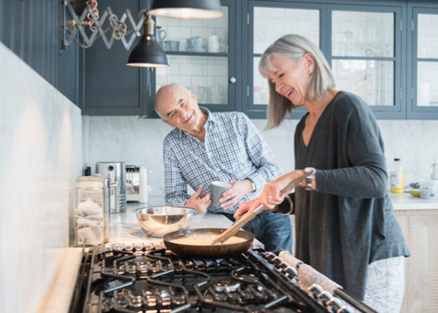 You may be more than ready to retire, but what about your home? Whether you hope to age in your current home, or plan to move to a new home, you can prepare now for the challenges that aging is likely to bring. The environment in which you live will be an essential ingredient to your retirement safety and happiness. Here are a few areas you may want to consider:

How's the temperature? As we spend more time indoors, a little thing like too much cold or heat can quickly become annoying. Why suffer when there are options like heated floors and remote-controlled fireplaces, or ceiling fans to help keep cool on warm days. Attention to details like quality insulation, weather stripping and double-pane windows help you maintain the environment you want.

Is your bedroom where it should be? Having your master bedroom upstairs may be fine when your knees are young. But as you move deeper into your retirement years, stairs are no longer your friend. Consider relocating your bedroom, if you can, to the ground floor and save the upstairs suite for younger visitors.

Is your home secure? A well-publicized alarm system with generously distributed signs and stickers lets potential criminals know ahead of time the area is protected. Additional security is available with systems that include a panic button which alerts the appropriate people when there is an emergency. It is a good investment to put deadbolts and strong locks on all doors with access to the outside. And make sure locks on windows click securely into place when closed.

Are your handles and fixtures senior friendly? Consider replacing interior door knobs with handles that are easier to open when hands are full. You may also want to replace tiny light switches larger rocker switches or ones that are touch controlled. Similar improvements can be made when it comes to faucets with levers, which are easier to work than knobs. And bigger handles on cabinets just make life that much easier.

Are you near local points of interest? It's helpful to be near the places you frequent, especially as you age. A short drive or walk to the grocery store, restaurants and nearby parks can make your location ideal. Public transportation can be a big help as well. And you cannot help but feel a bit safer if you live near a police or fire station as well as a hospital.

Is your kitchen efficiently designed? Cabinets should not be so high that they require stepping on a stool to reach. Drawers should not be so deep you have to bend down to see what is in the back recesses. Counter tops should not be too high or too low. Good lighting is a must, as well as ventilation. Take advantage of improvements like lazy Susan shelving that maximizes otherwise wasted corners of cupboards for easy access to everything stored there.

Can you see where you are going? Even if you have lived in a house for decades, it is easy to misjudge a distance in dim lighting and injure yourself. Make sure entrances are well illuminated for you as well as visitors. Install motion-detecting flood lights in strategic corners outside to light the way and help you find the keyhole after dark.

Adapted from an article by Dave Bernard on money.usnews.com.



This material is meant for general illustration and/or informational purposes only. Although the information has been gathered from sources believed to be reliable, no representation is made as to its accuracy. This material is not intended to be construed as legal, tax or investment advice. You are encouraged to consult your legal, tax or investment professional for specific advice.



Click on any icon below to share this article:

RISMedia welcomes your questions and comments. Send your e-mail to: realestatemagazinefeedback@rismedia.com.


Copyright© 2018 RISMedia, The Leader in Real Estate Information Systems and Real Estate News. All Rights Reserved. This material may not be republished without permission.