What You Should Know About Solar Leases
By Barbara Pronin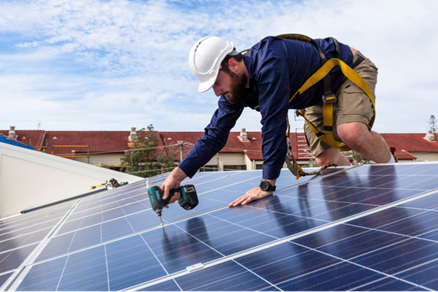 It is not surprising, given America's growing thirst for energy efficiency and electricity cost-savings, that solar power has become a thriving industry. In May 2018, the California Energy Commission set a precedent for California as the first in the nation to adopt standards requiring solar systems for new homes. The 2019 Building Energy Efficiency Standards will take effect beginning in 2020. While the CEC estimates the new standards will add about $40 to an average monthly mortgage payment, it should also save homeowners $80 on monthly heating, cooling and lighting bills.

While there is general agreement that owning solar panels adds value to a home – the Lawrence Berkeley National Laboratory released a study in 2016 showing the installation of solar panels that are owned, not leased, enhances the value of the home by an average of $25,000 – the jury is still out regarding the value of homes equipped with leased solar panels, especially when the homeowner wants to sell.

When a homeowner enters into a solar energy lease – which typically carries a 15 to 20 year secured payment obligation – the lien securing payment on the lease is recorded at the County Recorder's office and reported on the Preliminary Title Report ordered through escrow. When the home is sold, the lease must either be assigned to the new buyer, or bought out by the seller before the close of escrow.

There are times when such a situation complicates, or puts an end to, a possible sale. For one thing, the solar energy producer must approve the new owner before closing escrow. For another, not every potential buyer is a believer in solar energy, wants to undertake the financial obligation, and/or will qualify, credit-wise, to do so – and many sellers balk at paying off the lease contract or paying a hefty penalty for breaching the lease.

Ideally, at some point, solar lease disclosures will be mandatory on the part of a seller – or solar panels may be designed to move with the current homeowner. Until then, the escrow company will notify the buyers' agent immediately when it's discovered that a solar lease is in place so that the agent can work with their clients to negotiate a satisfactory resolution to save the transaction and/or avoid a closing delay.

Meanwhile, savvy real estate professionals can do several things to assist in the successful sale of a home with a solar lease in place:
Call the solar leasing company to learn the options available to both the sellers and buyers.
Encourage the sellers to pay off the solar lease, just as they might pay off the cost of any other upgrade, before or as part of any sale transaction.
Become knowledgeable about the facts and benefits of renewable energy. Be able to document for a potential buyer how much the homeowner paid for power before and after installation and how they might benefit from assuming the current solar panels and lease.
Barbara Pronin is an award-winning writer based in Orange County, Calif. A former news editor with more than 30 years of experience in journalism and corporate communications, she has specialized in real estate topics for over a decade.



This material is not intended to be relied upon as a statement of the law, and is not to be construed as legal, tax or investment advice. You are encouraged to consult your legal, tax or investment professional for specific advice. The material is meant for general illustration and/or informational purposes only. Although the information has been gathered from sources believed to be reliable, no representation is made as to its accuracy.

Click on any icon below to share this article:
RISMedia welcomes your questions and comments. Send your e-mail to: realestatemagazinefeedback@rismedia.com.
Copyright© 2019 RISMedia, The Leader in Real Estate Information Systems and Real Estate News. All Rights Reserved. This material may not be republished without permission.