The Escrow Process: What Agents Need to Know
By Barbara Pronin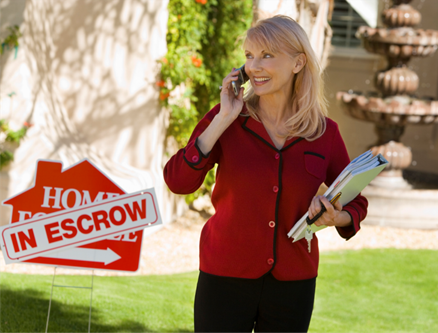 While the closing process varies from state to state, closing in California always involves the escrow process – a series of steps that must take place between the time a purchase agreement is signed and the time the buyer gets the keys to the new home.

As your escrow partner, we are committed to exceeding your highest expectations regarding the process of escrow and closing:

What is escrow?

It's the process that provides for a fair transfer of property between the buyer and seller. Both parties entrust funds and various legal documents to the escrow holder, a neutral party charged with ensuring that all terms and conditions are carried out before the funds are exchanged and the transfer of property is completed.

What does escrow do?
Receives earnest money deposit and documents to comply with purchase agreement
Completes or obtains required documents, including loan documents, lender instructions, tax statements, fire and other insurance policies, title insurance policies, terms of sale, and oversees payment for various services to be paid out of escrow funds
Upon the successful completion of escrow, handles final delivery of all items to the proper parties
What does the escrow holder do?
Prepares escrow instructions
Requests a preliminary title search
Receives purchase funds from the buyer
Prepares or secures the deed
Prorates taxes, interest, and insurance according to instructions
Instructs title to record documents at County Recorder's Office
Closes escrow when all instructions of buyer and seller have been carried out
Requests issuance of the title insurance policy
Disburses funds as authorized by instructions
Prepares final statements for all parties
What happens at the closing?
The escrow holder will arrange the signing of the loan documents, estimated closing statement and other documents, with a notary public.
Once all documents are signed and returned, the escrow holder will assist the lender in compiling funding conditions.
When all conditions of the escrow have been met, including receipt of all necessary and cleared funds, the title company will be notified to release the documents for recording with the County Recorder's Office
Upon confirmation of recording, escrow completes the prorations and costs in order to reconcile/balance all funds to be disbursed
The final statements and sellers' Closing Disclosure are prepared
Barbara Pronin is an award-winning writer based in Orange County, Calif. A former news editor with more than 30 years of experience in journalism and corporate communications, she has specialized in real estate topics for over a decade.



This material is not intended to be relied upon as a statement of the law, and is not to be construed as legal, tax or investment advice. You are encouraged to consult your legal, tax or investment professional for specific advice. The material is meant for general illustration and/or informational purposes only. Although the information has been gathered from sources believed to be reliable, no representation is made as to its accuracy.

Click on any icon below to share this article:
RISMedia welcomes your questions and comments. Send your e-mail to: realestatemagazinefeedback@rismedia.com.
Copyright© 2019 RISMedia, The Leader in Real Estate Information Systems and Real Estate News. All Rights Reserved. This material may not be republished without permission.