6 Ways to Add Instant Curb Appeal to Your Home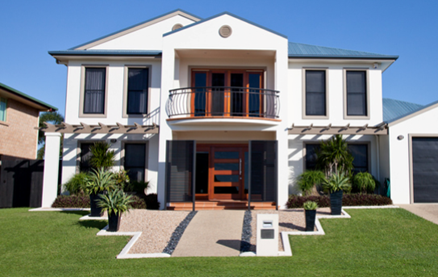 In real estate, an attractive exterior can make or break a home sale. First impressions are everything, at least when it comes to selling your home. According to the National Association of REALTORS®, 63 percent of homebuyers will view a home in person if they liked it online. What will they see? The home's exterior – including the front entry, yard, driveway and sidewalk – should serve as a snapshot of what's to come when potential buyers enter your home. Here are six ways you can "wow" homebuyers from the curb view.

Add colors to the garden. Depending upon the time of year, adding annual flowers may not be beneficial. Springtime is a great time to add color to your garden with annual flowering plants such as marigolds, lobelia (which are dark blue and a lovely contrast to marigolds), pansies and more. During the winter months, add flowers to pots depending upon what grows during winter months. Research types of plants at your local nursery.

Clean and power wash. Be sure to clean your entryway and walkway to the home. Power wash if required. You can rent a power washer from a home improvement store. Remove any debris and dead plants to create a clean entryway. You can power wash the house and garage door as well. Make sure that windows have been cleaned and screens are in good repair.

Dress up the front door. Your home's front entry is the focal point of its curb appeal. Make a statement by giving your front door a blast of color with paint or by installing a custom wood door. Clean off any dirty spots around the door handle and use metal polish on the door fixtures.

Replace old hardware. House numbers, the entry door lockset, a wall-mounted mailbox, and an overhead light fixture are all elements that can add style and interest to your home's exterior curb appeal. If they are out of date or in bad shape, your home may not be conveying the aesthetic you think it is. These elements add the most appeal when they function collectively, rather than as mix-and-match pieces. Oiled bronze finishes suit traditional homes, while brushed nickel suits more contemporary ones.

Install outdoor lighting. Low-voltage landscape lighting makes a huge impact on your home's curb appeal while also providing safety and security. Fixtures can add accent lighting to trees, the house, or can illuminate a walking path. If you are not able to use lights that require wiring, install solar fixtures (but understand that their light levels are not as bright or as reliable).

Does it smell good? If you are selling a home and have pets, be sure to keep the yard cleaned up at all times. Not cleaning up can result in a smell which can turn off potential buyers. When your buyers are walking up the front walkway, ensure there are no offensive smells.

Your house has one chance to make a good first impression and following these tips will help to make it appealing and inviting to prospective buyers.

Adapted from an article on realestate.us.news.com.



This material is meant for general illustration and/or informational purposes only. Although the information has been gathered from sources believed to be reliable, no representation is made as to its accuracy. This material is not intended to be construed as legal, tax or investment advice. You are encouraged to consult your legal, tax or investment professional for specific advice.



Click on any icon below to share this article:

RISMedia welcomes your questions and comments. Send your e-mail to: realestatemagazinefeedback@rismedia.com.


Copyright© 2019 RISMedia, The Leader in Real Estate Information Systems and Real Estate News. All Rights Reserved. This material may not be republished without permission.