Memorial Day Weekend Safety Tips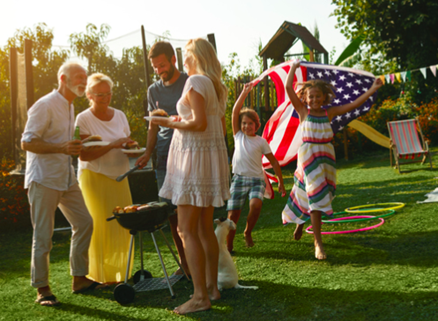 It's almost Memorial Day weekend, which many consider the official start of summer. In addition to honoring our nation's military who made the ultimate sacrifice, many Americans will be enjoying their favorite outdoor activities with friends and family. Whether your plans include grilling outdoors, taking a vacation or hitting the beach, it is important to plan for everyone's safety. Here are a few safety tips to make sure your weekend fun stays accident-free.

Fire and grill safety. When using a grill, be sure to clean it thoroughly to remove any grease or dust. Also, check for gas leaks. Use the grill outside, not in a garage, porch, or other enclosed space. If you plan to use a fire pit, be sure to put out the fire completely before leaving it unattended. Do not park your vehicles on grass as the hot exhaust can easily ignite dry vegetation.

Protect yourself from the heat. There is no better feeling than soaking in the summer sun. Make sure to keep your body hydrated by drinking plenty of water. Also, wear sunscreen with a minimum 25 SPF to protect your skin. Even on cloudy days, nearly 80 percent of the sun's harmful rays can penetrate your skin, according to the American Academy of Dermatology. Consider providing shade, like umbrellas or covered picnic areas, to reduce sun exposure for yourself and your guests.

Keep hot foods hot and cold foods cold. To protect yourself from foodborne bacteria when grilling or picnicking, the U.S. Food and Drug Administration (FDA) recommends you take steps to keep foods at safe temperatures; cold foods should be kept on ice or refrigerated and left out no longer than an hour, and warm foods should be kept heated to at least 140°F until served. When grilling, use a thermometer to make sure meat is fully cooked, and keep anything that has touched raw meat away from other foods.

Pool safety: Keep an eye on swimmers. If you throw a pool party at your house, you should always supervise weaker swimmers, such as young children. Try appointing someone as lifeguard rather than assuming one of your partygoers is keeping an eye on swimmers. Make sure younger children are within arm's reach in the pool, and never drink alcohol while swimming or supervising swimmers. Also, keep a watchful eye on drink coolers. As the ice melts, these items can become a drowning hazard for curious toddlers who look in the cooler and are unable to get themselves out.

Secure your home before traveling. If you plan to travel Memorial Day weekend, make sure to ask a family member, neighbor or close friend to house sit. Consider installing a security system or home automation, or upgrade your existing system to include home automation devices. An interactive surveillance system's value will really shine when you're on vacation, offering unprecedented levels of convenience and peace of mind.

Adapted from an article on blog.americansafetycouncil.com.

Click on any icon below to share this article:

RISMedia welcomes your questions and comments. Send your e-mail to: realestatemagazinefeedback@rismedia.com.


Copyright© 2019 RISMedia, The Leader in Real Estate Information Systems and Real Estate News. All Rights Reserved. This material may not be republished without permission.