Women in Title: A Force in the Industry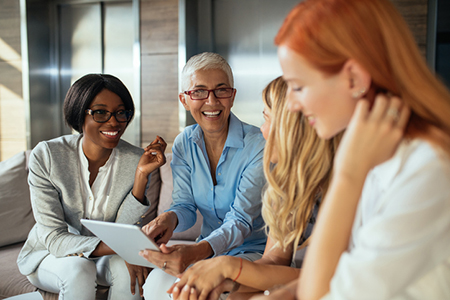 Editor's Note: This is part two of a two-part series.

In a previous issue, we recounted the history of women in the title industry, observing that women account for a large amount of title professionals today.

At Title Resource Group, in fact, more than 50 percent of the decision makers are women, 44 percent of them at vice president level or higher. What's the focus of these innovative leaders, and what are they doing to improve the closing process not just within the industry, but for consumers and real estate professionals?

"For one thing, we're preparing for our second annual Women's Leadership Conference and Retreat to be held August 7-10 in Santa Fe, New Mexico," said Elizabeth Ray, Senior Vice President and Regional Manager for Title Resources. "It's an opportunity to spend three days with our title industry peers, enhancing the skill sets of current leaders, empowering us all with new tools and strategies, and mentoring the next set of women leaders within our teams."

Ray, who began her title career in 1992 as an escrow officer in Texas and now oversees Title Resources' operations in 15 western states, was instrumental in launching the industry's first women's leadership event, which drew 18 women title executives nationwide two years ago and resulted in the creation of an official talent committee within the American Land Title Association (ALTA) chaired by Deborah Higgins, TRG's Senior Vice President, Human Resources.

The committee is charged with developing talent and ensuring that title professionals have the tools and technology they need to encourage peak performance and workplace flexibility.

"In the course of my own career, we needed to move four times to accommodate my husband's job," Ray noted. "In each case, TRG made sure I had the technology at my fingertips to continue working seamlessly - and our home sales and searches were a relative breeze, thanks to the professionalism of the Realogy agents we discovered along the way."

Those efficiencies are good reasons, she said, to encourage the growth of the leadership conference, which this year has expanded the attendee list to include women from all over the country.

"Real estate and title insurance professionals work together every day to protect home buyers and sellers and provide them with the best closing experience possible," Ray said. "Making time on the title end to share ideas at the highest level, to fine-tune strategies and implement efficiencies at every point along the way helps us to fulfill our mission to consumers and Realtors® alike."

Barbara Pronin is an award-winning writer based in Orange County, Calif. A former news editor with more than 30 years of experience in journalism and corporate communications, she has specialized in real estate topics for over a decade.

Click on any icon below to share this article:

RISMedia welcomes your questions and comments. Send your e-mail to: realestatemagazinefeedback@rismedia.com.


Copyright© 2019 RISMedia, The Leader in Real Estate Information Systems and Real Estate News. All Rights Reserved. This material may not be republished without permission.