Moving with Kids and Pets: Tips for a Smooth Transition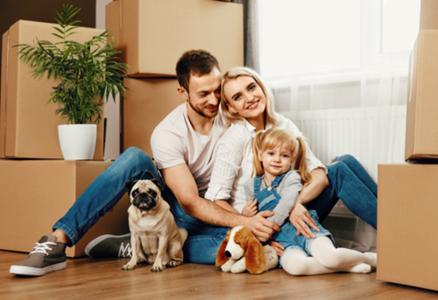 Summer is a favorite time of year for many people – especially school-aged children. However, if your family is planning to move to a new home this summer, the stress of moving can easily affect your children and even your pets. With a few simple tips and planning ahead, it's possible to make moving less stressful so your family can get back to enjoying all summer has to offer.

Before Moving Day. From toddlers to teenagers, children of all ages should know as soon as possible that they'll be moving into a new home. This gives them time to understand the moving process, say goodbye to neighborhood friends, and adjust to the upcoming change. To make things easier, involve them in packing their room and the planning of aesthetics for their new bedroom or playroom. Let them help pick out paint colors, decorations, or even new furniture. The more involved children can be, the more they'll enjoy the process!

For pets, try your best to prepare them for travel – whether by car or plane. Taking practice car rides to allow time to adapt to being in a confined space can help. If you're traveling by plane, talk with your vet about the best ways to help ease anxiety for your pet. Also, be sure to find a new vet near your new home before you move so if there are any emergencies when you arrive, you'll know exactly where to go.

Moving Day. You can make moving day go more smoothly by assigning children specific tasks during the day. These tasks may include carrying lighter boxes or looking after the family pet during the loading process, as doors are apt to be opened and closed frequently. Dividing up tasks ahead of time will make children feel as though they are part of the move and it can help to make the entire moving experience more efficient and successful.

For pets, arrange for a sitter or short stay at a pet boarding/daycare. Pets can be hypersensitive to movers in the house, loud noises, and people going in and out of doors all day. If you can't arrange for a sitter, keep them in a separate, quiet room away from the flurry (like a spare bedroom or bathroom) until everything is packed up.

Settling In. The first few days after a move can be complicated for everyone. Living out of boxes and getting used to a new home can be difficult for kids, pets, and even adults. For kids, make exploring your new city or neighborhood an exciting adventure. Look for new parks, shopping, and recreation areas for your kids to become acquainted with. Find local meet-up groups online that help children and parents to establish new connections.

For pets, exercise should be a daily routine for the first few weeks. Burning energy helps pets feel relaxed and at ease in the midst of the adjustment period. Also, having a crate or 'safe space' for a pet helps to create a cozy, quiet environment that makes them feel 'at home' in a new territory.

Adapted from an article on blog.swbc.com.

Click on any icon below to share this article:

RISMedia welcomes your questions and comments. Send your e-mail to: realestatemagazinefeedback@rismedia.com.


Copyright© 2019 RISMedia, The Leader in Real Estate Information Systems and Real Estate News. All Rights Reserved. This material may not be republished without permission.