Going Green Begins at Home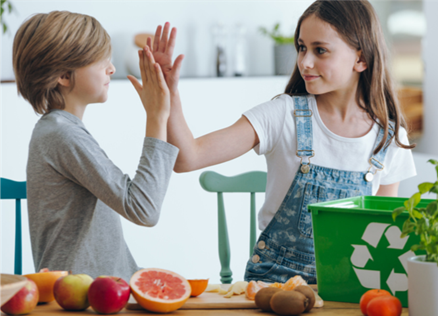 When it comes to going "green," people often focus on the big things. However, smaller practices that grow into habits can go a long way, especially when the whole family is pitching in. You don't have to wait until Earth Day to start building good green habits. You may be surprised how easy it can be to get started.

Repair faucets – Just one drop of water per second adds up to 1,300 gallons of wasted water every single year. Plumbing repairs typically pay for themselves after only a short time so there's no reason to put this one off.

Replace light bulbs – Compact fluorescent lamps CFLs use a quarter of the energy of standard light bulbs and last up to 10 times longer.

Use natural cleaning products – Green products are becoming more and more popular, but baking soda and a 50/50 mix of vinegar and water are also simple, natural cleaning agents that can handle most degreasing and disinfecting jobs in your home.

Garden the organic way – Use natural pesticides when necessary, but a trowel and a sturdy pair of gloves are often all you need to remove weeds.

Keep up with car maintenance – Over 700 million gallons of gasoline are wasted each year due to under-inflated tires, and millions of gallons more due to improper maintenance. Regular tune-ups will help you save money and the environment.

Walk or ride a bike – Whenever possible, consider walking or biking to where you need to go instead of driving. It won't just save you gas, it also helps reduce the amount of carbon dioxide being produced by your car, which causes air pollution.

Go meatless one day per week – Reducing meat consumption saves water, energy and even cuts down on air pollution. Pasta, vegetarian chili and bean burritos are simple and delicious meals for healthy living.

Reuse whenever possible – Everyone knows that recycling is good for the environment, but reusing is even better. Bring your own thermos to the coffee shop, use multi-use plastic containers for lunches and food storage, and don't forget your reusable grocery bags at the store.

Unplug appliances – Everyday appliances such as televisions, phone chargers, desktop computers, etc., continue to draw power and use up energy – even when they're turned off. Make sure to unplug those items when they are not in use.

Go paperless – Many companies offer electronic options for purchasing and maintaining products, eliminating the need to send or receive paper bills. You can view statements and make payments online through the service provider's site or your bank.

Cut your food waste – Avoid wasting food by planning out family meals, storing food properly, or shopping smart and buying only what you need to avoid food expiration.

Use cloth napkins – Paper napkins are a top disposable item at home. It's not only impractical but also hazardous to the environment. Replace them with cloth napkins instead which you can use over and over again.

Adapted from an article on stories.cromly.com by Luisa Wong.



This material is meant for general illustration and/or informational purposes only. Although the information has been gathered from sources believed to be reliable, no representation is made as to its accuracy. This material is not intended to be construed as legal, tax or investment advice. You are encouraged to consult your legal, tax or investment professional for specific advice.



Click on any icon below to share this article:

RISMedia welcomes your questions and comments. Send your e-mail to: realestatemagazinefeedback@rismedia.com.


Copyright© 2019 RISMedia, The Leader in Real Estate Information Systems and Real Estate News. All Rights Reserved. This material may not be republished without permission.