How to Ready Your Home In Case of a Wildfire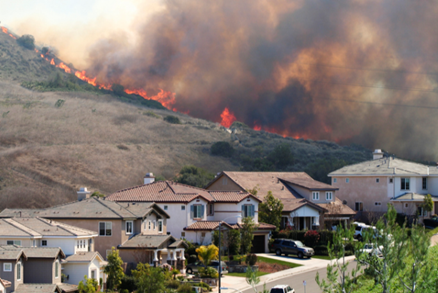 Autumn in California brings lower humidity, dryer landscape and the occasional desert winds. All factors that increase the risk of wildfire. By planning ahead, you can take precautions to give your home and property the best chance at surviving a wildfire. Here are a few tips from the Cal Fire "Ready, Set, Go!" campaign:

Maintain Defensible Space
Create a buffer by removing dead plants, grass and weeds. This buffer helps to keep the fire away from your home and is also important for the protection of the firefighters defending your home.
Trim trees and shrubs regularly to create space between them and remove branches that hang over your roof
Clear dead or dry leaves from your rain gutters and roof
Remove all tree branches at least six feet from the ground
Hardening Your Home
Use ember-resistant construction materials that can help your home withstand flying embers finding weak spots in the construction, which can result in your house catching fire.
Roof – build your roof or re-roof with materials such as composition, metal or tile
Vents – cover over all vent openings with 1/8" to ¼" metal mesh and protect vents in eaves or cornices with baffles to block embers
Eaves and Soffits – protect them with ignition-resistant or non-combustible materials
Windows – install dual-paned windows with one pane of tempered glass to help resist breaking from the heat of a fire
Walls – remodel with ignition-resistant building materials like stucco, fiber cement, wall siding, fire-retardant or treated wood
Decks – surfaces within ten feet of your home should be built with ignition-resistant, non-combustible or other approved materials, and make sure to clear any combustible items from under your deck
Rain Gutters – screen or enclose rain gutters to prevent accumulation of plant debris
Patio Cover – use the same ignition-resistant materials as for a roof
Chimney – cover with a non-combustible screen with openings no smaller than 3/8" and no larger than ½" to prevent embers from escaping and igniting a fire
Garage – have a fire extinguisher and tools such as a shovel, rake, bucket and hoe available for emergencies. Install weather stripping around and under the garage door to prevent embers from blowing in.
Fences – ignition-resistant materials will help protect your safe zone around your home
Driveways and Access Roads – trim trees and shrubs to allow emergency vehicles to enter, ideally with a minimum of 10 feet of clearance on either side
Address – make sure your house number is clearly visible from the road
Water Supply – have multiple garden hoses that are long enough to reach all areas of your home and other structures on your property
Fire-resistant Landscaping
Fire resistant plants are great in California because they are often drought tolerant, too. You don't need a lot of money to make your landscape fire-resistant, and you will find that a fire-resistant landscape can increase your property value and conserve water while beautifying your home.
Create fire-resistant zones with stone walls, patios, decks and roadways.
Use rock, mulch, flower beds and gardens as ground cover for bare spaces and as effective firebreaks.
Select high-moisture plants that grow close to the ground and have a low sap or resin content such as rockrose, ice plant and aloe.
Check your local nursery or a landscape contractor for advice on fire-resistant plants that are suited for your area.

Adapted from Ready, Set, Go! on Cal Fire's ReadyForWildfire.org.



This material is meant for general illustration and/or informational purposes only. Although the information has been gathered from sources believed to be reliable, no representation is made as to its accuracy. This material is not intended to be construed as legal, tax or investment advice. You are encouraged to consult your legal, tax or investment professional for specific advice.




Click on any icon below to share this article:

RISMedia welcomes your questions and comments. Send your e-mail to: realestatemagazinefeedback@rismedia.com.


Copyright© 2020 RISMedia, The Leader in Real Estate Information Systems and Real Estate News. All Rights Reserved. This material may not be republished without permission.