From Title Commitment to Title Insurance
By Barbara Pronin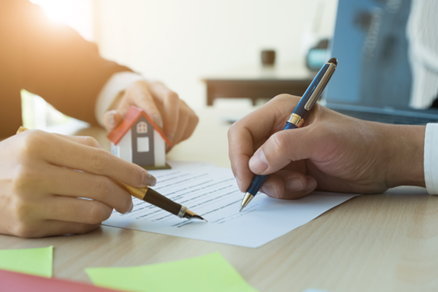 Home buyers must sort through a mountain of paperwork before they get the keys to their castle, and they don't always understand all the jargon involved. A case in point is the difference between title commitment and title insurance.

The main difference between the two is timing.

The title commitment is issued before closing and after four basic areas, known as schedules, have been met. It commits the title insurance company to search the public records for title information and issue a title insurance policy at closing based on any exclusions, exceptions and requirements stated in the title commitment. Title insurance is the policy issued to the buyers after closing.

The four schedules to be satisfied before insurance policies are issued are labeled A through D:
Schedule A - Covers basic information about the transaction, such as the effective date, the policy coverage amount, the legal name of the current title owner, and a legal description of the property.
Schedule B - Contains a list of standard exceptions the policy will not cover, as well as any matters specific to the transaction that could impact the use of the property, such as easements or restrictive covenants.
Schedule C - Essentially the heart of the commitment, lists the requirements that must be satisfied for the title insurance to be issued, such as information about liens, judgments, or updated surveys or clarification marital status. (In most cases, the seller is responsible for resolving any Schedule C issues.)
Schedule D - Discloses the total policy premium amount and an explanation of how the premium is divided among all parties responsible for examining and issuing the policy.
The title insurance policy issued after closing is what protects the buyer against any financial loss that might result from any title defects that may come to light after closing, such as:
Mechanic's liens or lawsuits
Outstanding judgments
Undetected fraud or forgery
Third party claims
Defects in recording
The one-time fee paid for title insurance covers deep searches for title data going back many decades, and the title insurance policy, once issued, insures anyone who inherits the property from the buyer.

In some cases, as negotiated, the buyer may pay for title insurance to protect the lender, while the seller will pay for title insurance to protect the buyer.

Barbara Pronin is an award-winning writer based in Orange County, Calif. A former news editor with more than 30 years of experience in journalism and corporate communications, she has specialized in real estate topics for over a decade.

Click on any icon below to share this article:

RISMedia welcomes your questions and comments. Send your e-mail to: realestatemagazinefeedback@rismedia.com.


Copyright© 2020 RISMedia, The Leader in Real Estate Information Systems and Real Estate News. All Rights Reserved. This material may not be republished without permission.