Six Tips for Staying Sane While Working From Home
By Barbara Pronin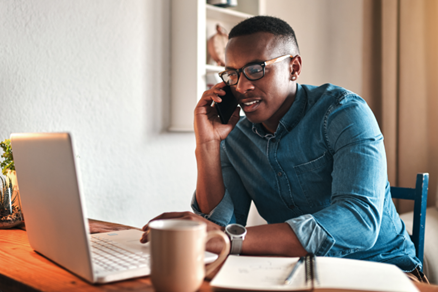 If you are one of the many Americans who thought you'd never miss the commute to work, or the constant chatter and ringing of office phones, then working from home for an unspecified period may have you reconsidering your wish list.

"Most people are accustomed to – and thrive on - social interaction," noted California psychologist Dr. Heather Coakley. "When working remotely deprives you of that, it's important to balance work and play to avoid a feeling of isolation."

No one knows how long the COVID-19 health crisis will keep people from returning to the workplace. In the meantime, psychologists and productivity coaches recommend six tips for remaining engaged while working remotely:
Choose a permanent workspace – It may be tempting to work on the living room sofa. Don't do it. Choose a dedicated spot, at a desk or at the dining room table and make that your dedicated workspace. It will help keep you on track and may even help remind family members to avoid unnecessary disturbances.
Get dressed for work – Whether it's office casual or shorts and a t-shirt, getting dressed rather than working in your PJs can help signal your brain to be productive.
Take regular breaks – Keep to a familiar routine, taking regular 'coffee breaks' and lunch hours. Those are the times to eat, snack, listen to music or tune into the news if you like – to take a few minutes to check in with family or phone a friend.
Stay in close touch – It's likely there will be plenty of virtual meetings scheduled by your office during this time – and feel free to telephone managers or co-workers as needed in between meetings, just as you would if you were at the office.
Separate work time and personal time – Time off is important, so don't extend your regular work hours. Spend a 'coffee break' playing with the kids or the dog if you like. It's one of the perks of working from home. When you wrap up your work day, take some time to make a mental transition, then enjoy the evening with family or on a Zoom chat with friends.
Exercise and stretch regularly – You may be missing your gym workouts, but getting some exercise while sheltering in place should still be part of your daily routine. Stretch regularly during the workday. Take a walk before or after work, or during your designated lunch hour.
Barbara Pronin is an award-winning writer based in Orange County, Calif. A former news editor with more than 30 years of experience in journalism and corporate communications, she has specialized in real estate topics for over a decade.

Click on any icon below to share this article:
RISMedia welcomes your questions and comments. Send your e-mail to: realestatemagazinefeedback@rismedia.com.
Copyright© 2020 RISMedia, The Leader in Real Estate Information Systems and Real Estate News. All Rights Reserved. This material may not be republished without permission.