Marketing to Millennials
By Barbara Pronin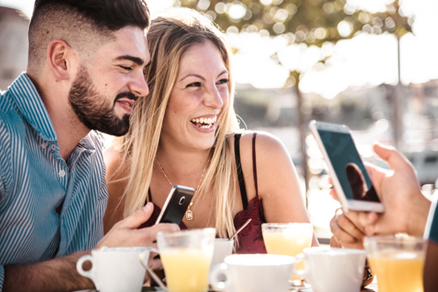 Connecting with a millennial audience is a hot topic in marketing – understandably, since millennial consumers, typically ranging in age from 16 to 36, make up a quarter of the nation's population and are quickly overtaking Baby Boomers as America's largest generation.

Well-informed, internet-savvy, and confirmed multi-taskers, millennials tend to think differently than their parents did – so if you count them among your target audience, you need to understand what moves them. They value flexibility and mobility, sociologists note, and they tend to prize experience over ownership – one reason for the rapid rise of ride-sharing and rental services.

Add to that student debt and high prices, and it's easy to understand why they have largely been MIA among homebuyers. But now, according to the National Association of REALTORS® 2019 Home Buyers and Sellers Generational Trends Report, a strong job market and a trend toward marriage and raising families is propelling them into the largest segment of the home buying public.

Successful marketers suggest five ways to reach – and build relationships – with millennial buyers:
Use content marketing – Research shows that the more content your audience consumes, the more likely they are to buy from you, so focus your marketing efforts on crafting compelling and value-added content that helps them understand the challenges and opportunities they face and how you can help them navigate through them.
Emphasize positive reviews – Millennials tend to trust online reviews by their peers, so use your best reviews on social media and sites like Yelp to help you build trust with prospects. It's important, too, to engage with consumers, commenting on posts by others and providing timely and helpful information.
Use mobile site design – Because millennials use their phones to research products and services online, your website and content should be optimized for mobile devices.
Stay social – To connect with millennial consumers, you need to reach them where they are and engage with them in ways they prefer. That means interacting with customers, starting conversations that keep them engaged, and responding instantly to questions or comments.
Find ways to collaborate – A worthwhile goal is to get customers to share their experiences on social media, which helps you improve your reach. One way to do that is to partner with influencers in your industry – perhaps someone who has a notable blog or social media following you can tap into to help you reach and build trust with new audiences.
Barbara Pronin is an award-winning writer based in Orange County, Calif. A former news editor with more than 30 years of experience in journalism and corporate communications, she has specialized in real estate topics for over a decade.

Click on any icon below to share this article:
RISMedia welcomes your questions and comments. Send your e-mail to: realestatemagazinefeedback@rismedia.com.
Copyright© 2020 RISMedia, The Leader in Real Estate Information Systems and Real Estate News. All Rights Reserved. This material may not be republished without permission.