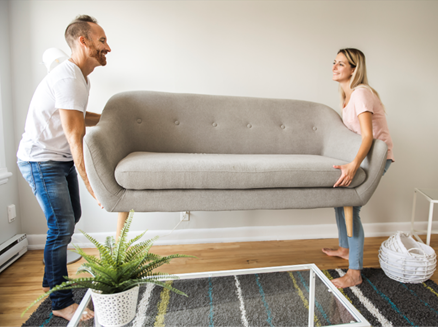 Below is a list of easy but impactful home improvement projects that can alleviate cabin fever and increase enjoyment of your space.

1. Conduct the Ultimate Spring Cleaning
Move from top to bottom—start with your walls and windows and work your way down. Using an all-purpose cleaner, wipe down your ceiling (if you can reach), crown molding, walls, cupboards, kitchen appliances and baseboards.

On the way down, give your windows a good cleaning (both inside and out), dusting blinds and shades, and washing anything that's machine washable, like your curtains

2. Focus on One Room at a Time
Taking this project one room at a time provides mini goals to keep you motivated. In each room, conduct a thorough cleaning, decluttering, sorting, purging and organizing. Label and organize—look for better ways to store your belongings. Get rid of things you no longer use so you declutter and ensure your home is filled with things that bring you joy.

3. Create New Spaces (or Zones) in Your Home
Consider how you can use unused pieces of furniture to create new and useful spaces. Depending on the space in your home and the items you have, your options are limitless. Set up a bar and beverage area, a reading nook, a space for homework (or work from home!), a game area or a workout space.

4. Try a New Furniture Arrangement
When you're getting bored of your space, rearranging furniture is one of the fastest and easiest ways to refresh your home! Move decorations and accent pieces to different parts of the home, switch up artwork, and try using different pieces for different purposes—for example, maybe a side table becomes a plant or lamp stand.

5. Try New Linens, Pillows, Blankets and Rugs
If you have additional linens saved for guests or different seasons, now is the time to bring them out and swap out your current arrangements. Changing area rugs, in particular, can bring a whole new look to your home. Work with what you have or browse online for future purchase ideas.

6. Upgrade Your Outdoor Space
If you have a yard, deck or patio, now is a great time to make sure it's a comfortable and functional space. Scrub outdoor furniture, wipe down patio rugs, wash cushions and pillows. Tend to the landscaping by sweeping up any leaves, dirt and other debris, weeding, mowing, or planting flowers or a vegetable garden. Hang some lights for an inviting atmosphere.

7. Conduct Minor Repairs
Chances are there are a few outstanding projects you haven't had time to complete. This is a great time to tackle those minor projects—particularly the ones that you can do all on your own like re-caulk tile, touch up paint, fix broken fences or doors, and tighten loose fixtures.

8. Start Planning for the Future
If you'd like to make bigger upgrades to your home in the future, now is an excellent time to start planning! Make a list of what you're dreaming about for your home and create a Pinterest or Houzz account to save ideas. Take advantage of this opportunity to dream big and think about what sort of changes will benefit you and your family most in the months to come.

Adapted from a blog on RIS Media's Housecall. Erin Davis is owner of Mosaik Design & Remodeling in Portland Oregon.



This material is meant for general illustration and/or informational purposes only. Although the information has been gathered from sources believed to be reliable, no representation is made as to its accuracy. This material is not intended to be construed as legal, tax or investment advice. You are encouraged to consult your legal, tax or investment professional for specific advice.



Click on any icon below to share this article:

RISMedia welcomes your questions and comments. Send your e-mail to: realestatemagazinefeedback@rismedia.com.


Copyright© 2021 RISMedia, The Leader in Real Estate Information Systems and Real Estate News. All Rights Reserved. This material may not be republished without permission.