Stay Fit, Healthy and (Mostly) Happy Working From Home
By Barbara Pronin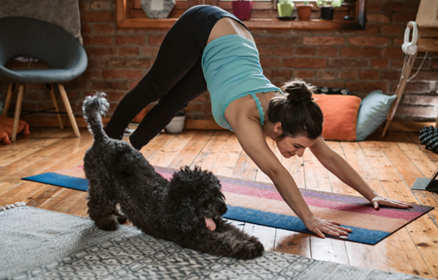 As you read this, a patchwork of cities, counties and states are slowly, or not so slowly, lifting the stay-at-home restrictions imposed to curb the spread of COVID-19, and REALTORS®, like all Americans, may be wrestling with their readiness to re-enter the world as they knew it.

For millions still at home, juggling the demands of work and family, it's easy to put your personal needs last. With gyms closed, doctors limiting access to care, and feelings of isolation building, physicians, psychologists, and fitness instructors provide simple solutions to help you ensure your personal health and well-being:
You can and should work out - Walk or run off your feelings of frustration or isolation or just to keep yourself fit. Take a bike ride. Look for one of many online workout classes and fitness routines. If all else fails, run up and down the stairs a few times, or swim a few laps in your backyard pool now that the weather is warming up.
Tend to your minor aches and pains - Access to your doctor may still be limited, but most offices and health plans are offering some sort of telemedicine at this time. Don't hesitate to take advantage of telephone help lines to help resolve minor medical issues.
Eat healthy - Many people are heading to their kitchens these days, learning how to cook, trying new recipes, learning to bake bread. If that suits you, go for it. Everyone should have some cooking skills. But be careful to eat a healthy diet, with lots of fruits, veggies, and lean proteins, to avoid unwanted weight gain. If cooking is not your thing, and you are tired of takeout, look online for healthy meal kits you can have delivered to your door that require minimal preparation. You can even order customized meal kits for specialized diets, such as vegan, diabetic, or gluten-free.
Learn something new - Online offerings at MasterClass.com can help you write like a novelist, cook like a pro, or think like a scientist with classes taught by the likes of James Patterson, Wolfgang Puck and Neil deGrasse Tyson. Pick up conversational French or just about any language at Duolingo.com- or relax by watching live video of wildlife around the globe via webcams provided at explore.org, wildlifeforever.org or audubon.org.
Stay connected - Like savvy and caring real estate agents everywhere, you are staying in touch with everyone in your SOI. Find personal gratification by phoning a friend you haven't seen for a while. Check in with an elderly relative. Stay social by scheduling a Zoom session to bring far-flung friends and family together for a virtual picnic or cocktail party.
Barbara Pronin is an award-winning writer based in Orange County, Calif. A former news editor with more than 30 years of experience in journalism and corporate communications, she has specialized in real estate topics for over a decade.

Click on any icon below to share this article:
RISMedia welcomes your questions and comments. Send your e-mail to: realestatemagazinefeedback@rismedia.com.
Copyright© 2020 RISMedia, The Leader in Real Estate Information Systems and Real Estate News. All Rights Reserved. This material may not be republished without permission.