A Tribute to Our Title/Escrow Heroes
By Barbara Pronin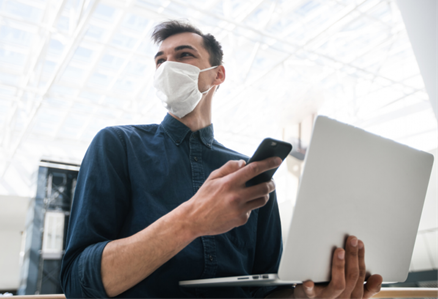 As Americans confront and negotiate the challenge of the COVID-19 era, it is an honor and a privilege to salute the frontline workers and first responders - the doctors, nurses, ambulance drivers, police and firefighters, and so many other brave souls who daily put their health at risk in the effort to serve us all. Truly, they are the heroes of our time.

At the same time, ordinary Americans are struggling to keep business afloat, support those who need aid, and perform the many tasks deemed essential in order to help keep lives moving forward. One of these essential tasks involves making it possible, often by the most creative means, for home sellers to sell when they need to sell and for home buyers to achieve their American dream, even in this uncertain environment.

With that in mind, we salute the dedicated REALTORS® and agents who are opening contracts during the COVID-19 crisis - and we'd like to share a few stories about how our title/escrow heroes at Realogy Title Group - resourceful men and women working primarily in virtual environments all across the nation - are going beyond the pale to help move your important transactions to timely and successful closing.
Mid-Atlantic Settlement Service, Maryland - A local brokerage firm closed their doors, preventing a settlement for a first-time homeowner from taking place as scheduled. The Mid-Atlantic team was not aware of the situation until they arrived at the door to find it locked. Undaunted, the team went ahead and completed the settlement on the front steps of the shuttered office. Booyah!
TitleOne, Idaho - On a recent day in Boise, the team received an order from a direct competitor who said there was no way their title team could meet the turn time for a title commitment demanded by the client. The TitleOne team said, "Bring it on!" The competitor knew full well that the TitleOne team would do whatever it took to meet the commitment - and they did!
Clear Title, Florida - The team received a last-minute closing package on a refinance. The borrower's wife was self-quarantined after traveling abroad, and the husband needed to be at work at a nearby hotel. The Clear Title team scheduled a mobile notary to be at each location. To keep the notary safe, our team members arranged to have the signing witnessed through a window, transmitting the necessary driver's licenses electronically. Problem solved. Closing on time. Borrowers happy! Yesss!
Barbara Pronin is an award-winning writer based in Orange County, Calif. A former news editor with more than 30 years of experience in journalism and corporate communications, she has specialized in real estate topics for over a decade.

Click on any icon below to share this article:
RISMedia welcomes your questions and comments. Send your e-mail to: realestatemagazinefeedback@rismedia.com.
Copyright© 2020 RISMedia, The Leader in Real Estate Information Systems and Real Estate News. All Rights Reserved. This material may not be republished without permission.