Real Estate Podcasts for Every Interest (Part 1)
By Barbara Pronin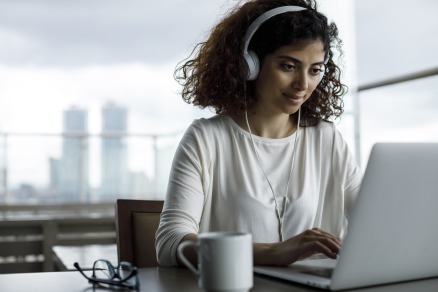 The most successful real estate professionals are always on the lookout for a new idea, a better way to do something, an inspiring tip from a respected mentor. Hearing it when and as your time permits makes it all the more valued. To that end, assuming you have wi-fi and a pair of headphones, we recommend some of the industry's most educational and motivating podcasts on topics that span the real estate spectrum.
Bare Naked Agent - N.Y. Times bestselling author Pat Hiban, who sold more than 7,000 houses in his 25-year real estate career, uses a Q and A format to lay bare the basics and complexities of dynamic marketing.
Big Pockets Real Estate Investing - Seasoned real estate investor, Brandon Turner, teamed up with entrepreneur and former real estate agent, Joshua Dorkin, to create this podcast featuring advice and tips on the fundamentals of investing.
Commercial Real Estate Investing - Joe Fairless' legion of fans tune in daily to his blogs, podcasts, and YouTube videos for up-to-date commercial real estate investing, supported by guest speakers and successful entrepreneurs.
Cashflow Diary - Master facilitator for the Robert Kiyosaki (Rich Dad, Poor Dad) Cashflow 101 games, J. Massey, covers everything you ever wanted to know about prospecting, buying, selling, flipping and more.
Tom Ferry Podcast - Hands down one of the top real estate podcast experts in the business, and an in-demand keynote speaker, Ferry shows agents the best solutions for savvy marketing.
Real Estate Insider (Canadian) - The Canadian real estate market for luxury homes is attractive to foreign investors seeking to diversify or expand their portfolio. Trusted national resource, Don R. Campbell, covers industry trends across the country.
Conversations That Matter - If you want to clarify your brand, build your digital presence, and develop strategies to support your business goals, Quest founder, Teri Conrad, is an inspiring resource for both new and seasoned agents.
The Agents of Change - Founder of web design firm Flyte New Media, Rich Brooks, shows entrepreneurs how to boost their online visibility using proven SEO practices and strategies.
Barbara Pronin is an award-winning writer based in Orange County, Calif. A former news editor with more than 30 years of experience in journalism and corporate communications, she has specialized in real estate topics for over a decade.

Click on any icon below to share this article:
RISMedia welcomes your questions and comments. Send your e-mail to: realestatemagazinefeedback@rismedia.com.
Copyright© 2020 RISMedia, The Leader in Real Estate Information Systems and Real Estate News. All Rights Reserved. This material may not be republished without permission.