Working Smart In a Busy December
By Barbara Pronin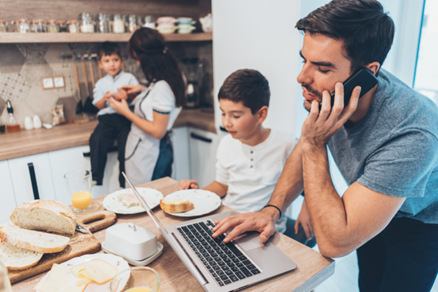 Maintaining a healthy work/life balance at any time can be tough for busy real estate agents. It can be doubly tough when you're trying to balance family, holiday preparations, and the busiest December many agents have seen in many years.

Studies indicate there are basically three types of agents:
The always available - Those who will take a phone call or meet with a client any time they are called, even if it conflicts with personal time.
The responsive but reserved - Those who will take the call at any time but promise to call back at a given time - and then follow through.
The firmly scheduled - Those who maintain strict work and personal time and stick firmly to their schedules.
Those in the first group make business a priority, even if it means rescheduling or missing family events.

Agents in the second group may answer a call while preparing Sunday dinner, but will explain and offer to call back as soon as feasible - and then will do so.

The last group are the agents who establish set-in-stone working hours in order to enjoy uninterrupted personal or family time.

While the second category would seem to offer the most opportunity for work/life balance, the fact is that wherever you fit in this schematic, there is no one right way to manage your time - and there are top agents in each group who succeed no matter where they draw the line between professional and personal boundaries.

It's a matter of finding the balance that works for you, and - in this unusual December - not allowing yourself to feel guilty:


a) for spending more time at work than usual this month in order to take advantage of business opportunities - or
b) for taking more personal/family time in this unusual December despite possible missed business opportunities


Ideally, you might tend to paperwork early in the day, schedule time with clients during the mid-day hours, and reserve evenings for family or personal time - but since we don't live in an ideal world, flexibility becomes more important than ever.

This may be a good time to consider teaming, at least on a temporary, "I'll stand in for you if you can stand in for me" basis.

Meanwhile, as American journalist Sydney J. Harris put it, "The time to relax is when you don't have time for it."

You get to decide when that time is.

Barbara Pronin is an award-winning writer based in Orange County, Calif. A former news editor with more than 30 years of experience in journalism and corporate communications, she has specialized in real estate topics for over a decade.

Click on any icon below to share this article:

RISMedia welcomes your questions and comments. Send your e-mail to: realestatemagazinefeedback@rismedia.com.


Copyright© 2021 RISMedia, The Leader in Real Estate Information Systems and Real Estate News. All Rights Reserved. This material may not be republished without permission.