10 Easy Ways to Refresh a Tired Living Space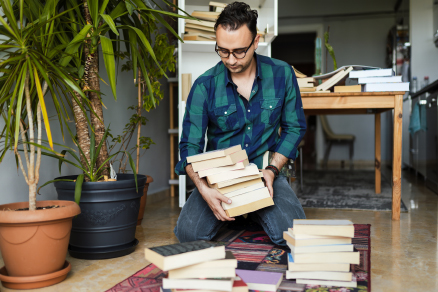 If you're like many Americans who've been working from home for many months, you may be tired of the living space you once enjoyed and find it is now totally uninspiring. Decorators suggest 10 simple refresher solutions to perk up your living and work space.
Repaint one wall. Add a new splash of color by repainting one wall of your kitchen, bedroom or living room. Choose a color you find relaxing or pleasing and add new interest to your day.
Bring in a few plants. A little greenery can do wonders to brighten up a space and lift your spirits as well. Try an easy-care philodendron, a low-light friendly Devil's Ivy or Chinese evergreen, or some water-friendly succulents.
Hang a mirror. It will get a little more light bouncing around, which can make a room look more spacious.
Try some new wall art. Add interest and create something fun to look at while you work by hanging one larger piece surrounded in an interesting way by several smaller pieces. You can even use framed photos or a variety of smaller watercolors to make a pleasing gallery wall.
Change up the lighting. Overhead light can be pretty boring. Bring in a table or floor lamp or two to get light coming from different heights and angles around the room.
Bring in a rug. In addition to adding warmth and texture to the floor, an area rug helps ground a room and the furniture in it. Even a small rug in the kitchen or in your entryway can make a big difference.
Do some rearranging. Speaking of furniture, you can completely change the look of a room just by moving the furniture around.
Add throw pillows. Make a tired room more inviting by tossing some comfy, bright-colored pillows on the sofa, a chair or a bed.
Change out the knick-knacks. Accessorize a bookcase, shelving or a mantelpiece with some new decorative pieces, such as a couple of framed pictures, a small vase or sculpture, a pretty clock or whatever pleases you.
Try adding scent. If you find the scent of pine or hyacinths relaxing, bring in some scented candles. Bringing scent into a room can liven it without breaking the bank.
*Adapted from an article published by RISMedia



This material is meant for general illustration and/or informational purposes only. Although the information has been gathered from sources believed to be reliable, no representation is made as to its accuracy. This material is not intended to be construed as legal, tax or investment advice. You are encouraged to consult your legal, tax or investment professional for specific advice.

Click on any icon below to share this article:
RISMedia welcomes your questions and comments. Send your e-mail to: realestatemagazinefeedback@rismedia.com.
Copyright© 2021 RISMedia, The Leader in Real Estate Information Systems and Real Estate News. All Rights Reserved. This material may not be republished without permission.