Title Support in a Busy Marketplace
By Barbara Pronin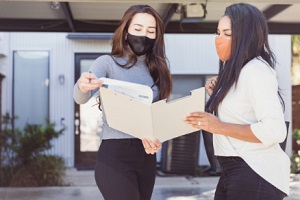 In any marketplace environment, settlement services play a vital role in the sale and purchase of real estate. The complex work done by title professionals protects everyone involved in a transaction - the buyer, the seller, the lender, and even the agent. As busy agents know, completing this work is the last step before the keys to a home can change hands.

In addition to conducting the title search and issuing title insurance, your title partners manage the safe movement of money between transaction parties and prepares the all-important closing documents - all in within an accurate timeline.

In these past months, as brokers and agents worked tirelessly to meet soaring consumer demand mid-pandemic, our title professionals have stepped up to accommodate changing needs:
We quickly equipped agents and support staff working at home with the tools they needed to seamlessly keep transactions moving forward
We implemented sound safety protocols for those employees who were required to work in our offices
We have provided contactless closings to keep customers and agents safe
We committed to insuring the gap created by a temporary inability to record when recording offices were closed or unavailable
No one can be certain how long COVID-19 conditions will last, but the pandemic has clearly highlighted the need to continue innovating and rethinking how processes can and should be done. To that end, we have updated software and social media strategies, updated websites to provide up-to-date information, and developed efficient communication strategies to help keep transactions and closings on track.

We are committed to the promise of doing whatever it takes to create a timely and positive closing experience for you and your clients throughout the pandemic and into the new normal on the other side of it.

For the most current information on processes or alternatives for your transaction, please call your title representative.

Barbara Pronin is an award-winning writer based in Orange County, Calif. A former news editor with more than 30 years of experience in journalism and corporate communications, she has specialized in real estate topics for over a decade.

Click on any icon below to share this article:

RISMedia welcomes your questions and comments. Send your e-mail to: realestatemagazinefeedback@rismedia.com.


Copyright© 2021 RISMedia, The Leader in Real Estate Information Systems and Real Estate News. All Rights Reserved. This material may not be republished without permission.