4 Tips for Maximizing Your Living Space
By Anica Oaks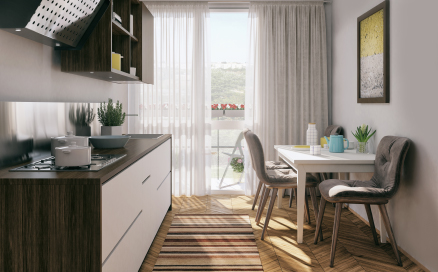 Having a lot of open living space is a lovely idea, however, many of us can't afford a large house or condominium with that luxury. If you have a smaller home, here are four things you can do to save yourself some space and feel less cluttered throughout the day:

Hang What You Can
Think vertically! There's a lot of vertical space in a home that so often goes unused. To save some space, consider hanging items. Think about hanging your pans, coffee cups and cooking utensils over the kitchen counter or on the wall. This allows easy access to these items without crowding your cupboard or counter space.

Use a Foldable Bed
Cots are a thing of the past; the convenience was nice, but their comfort level was not. In the 21st century, the queen murphy bed is the new desirable folding bed. You can enjoy a solid bed frame that easily folds up into a cabinet. Most of these foldable beds include tall cabinets on both sides, allowing for more storage space, and the bed easily blends in with the cabinets when it's in the closed position, creating more floor space.

Utilize Corner Desks
Many small rooms have great corner areas that can be utilized. The problem is, most people don't have furniture designed for corner spaces. Head to your local furniture or office supply store and pick up a small, rectangular desk that will fit in the corner while providing you enough room for a workspace.

Purchase Exposed-Leg Furniture
When you select furniture for your home, particularly a bed frame, opt for pieces that provide access to the space underneath, which can be used for added storage. This area can be great for storing containers of various items that you don't need on a daily basis.

Living in a small home – or in a home with small rooms – comes with its own set of challenges. One of the biggest for many is the lack of extra storage space. By implementing these tips you'll be well on your way to maximizing your living space!

Adapted from an article on the RISMedia Housecall blog.



This material is meant for general illustration and/or informational purposes only. Although the information has been gathered from sources believed to be reliable, no representation is made as to its accuracy. This material is not intended to be construed as legal, tax or investment advice. You are encouraged to consult your legal, tax or investment professional for specific advice.




Click on any icon below to share this article:

RISMedia welcomes your questions and comments. Send your e-mail to: realestatemagazinefeedback@rismedia.com.


Copyright© 2021 RISMedia, The Leader in Real Estate Information Systems and Real Estate News. All Rights Reserved. This material may not be republished without permission.