How to Take Care of Your Backyard Equipment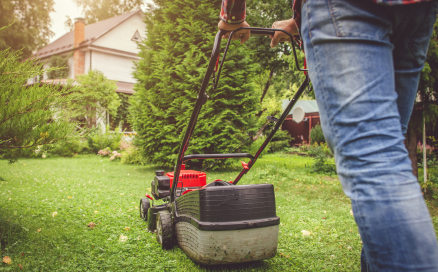 Backyard season is upon us, and you'll need to have the right equipment on hand to create a healthy and inviting outdoor space. You'll also need to make sure the equipment is well-maintained and safe to operate. Here are some steps to follow from the Outdoor Power Equipment Institute (OPEI).

Look over equipment. A lot can happen when equipment is left in a garage or storage shed for an extended period of time. Check the air filter, batteries, oil level and gasoline tank. Watch for loose belts and missing or damaged parts. Replace any necessary parts or take your equipment to a qualified service specialist.

Drain fuel tanks. If you didn't empty the gasoline tank before storing equipment, drain it now. Fuel should never sit in outdoor power equipment for more than 30 days. Untreated gasoline (without a fuel stabilizer) will deteriorate, which may cause starting or running problems or damage the fuel system.

Protect your power. Use only E10 (or less) fuel in gasoline-powered outdoor equipment. Most manufacturers recommend a fuel stabilizer be used, especially if you don't use up all the fuel in the tank right away. Any fuel containing more than 10% ethanol can damage small engine equipment not designed for it.

Store fuel safely. Label fuel cans with the date of purchase and ethanol content of the fuel. If you don't know the date of purchase, dispose safely of the fuel and buy fresh gasoline. Always store fuel out of the reach of children and pets,

Don't mix up your battery packs. For battery-powered equipment, use only the charger specified by the manufacturer. Follow all charging instructions and do not charge the battery pack or tool outside the temperature range specified in the instructions.

Stash batteries safely. When the battery pack is not in use, keep it away from paper clips, coins, keys, nails, screws or other small metal objects.

Tidy up. Clean equipment will run more efficiently and last longer, so take care of yours regularly by removing dirt, oil and grass, and storing it in a dry place. Damp or wet surroundings will lead to rust and shorten the lifespan of your tools.

*Adapted from an article published by RISMedia



This material is meant for general illustration and/or informational purposes only. Although the information has been gathered from sources believed to be reliable, no representation is made as to its accuracy. This material is not intended to be construed as legal, tax or investment advice. You are encouraged to consult your legal, tax or investment professional for specific advice.




Click on any icon below to share this article:

RISMedia welcomes your questions and comments. Send your e-mail to: realestatemagazinefeedback@rismedia.com.


Copyright© 2021 RISMedia, The Leader in Real Estate Information Systems and Real Estate News. All Rights Reserved. This material may not be republished without permission.