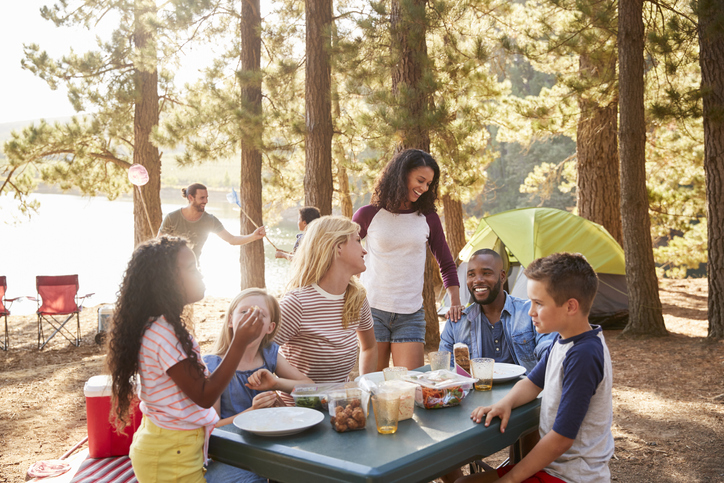 Taking advantage of a beautiful day is easy if you can quickly assemble everything you need for a picnic-style meal at the local park or beach. Be it a classic wicker basket or a city-slicking backpack, have your carry-all ready—and keep this essential packing list handy so that the next time opportunity strikes, you're ready to transport your meal to the great outdoors:
- Frozen water bottles. Keep a couple of these in the freezer at all times. They'll serve as ice packs for your picnic container and ice cold drinks at your picnic destination.
- Corkscrew/bottle opener. Keep this in your picnic container so you don't even have to worry about packing it. Better yet, invest in the variety that fits on your keychain.
- Dishtowels. Keep a couple of nice dish towels in your picnic basket. They can do double duty as napkins and also clean up spills. And you won't have to worry about them blowing away like paper goods.
- Condiments. Collect small packets of salt, pepper, ketchup, mustard, relish and whatever else you fancy and throw them into a baggie to keep with your picnic supplies.
- Pocket knife. This will come in handy for cutting meats and cheeses and a wide variety of other unexpected challenges while in the great outdoors.
- Picnic blanket. Look for the kind that's durable and waterproof on the side that faces the ground—and comfy on the side on which you'll sit. Some even fold up and have their own carry strap so that you don't have to worry about fitting it into your picnic bag.
- Utensils. Invest in camping utensils that double as a fork and spoon. They'll take up less space and save you the hassle and waste of worrying about plastic utensils.
- Plastic tupperware. Pack pieces that are large enough to serve as individual eating trays to house your food and rest your drink if you're eating on the ground.
- Empty bags. Throw a couple of these in your bag to collect your trash at the end of your picnic so that you can dispose of it properly.
All you need to add now is your favorite picnic food, and you're ready for an anytime al fresco meal!