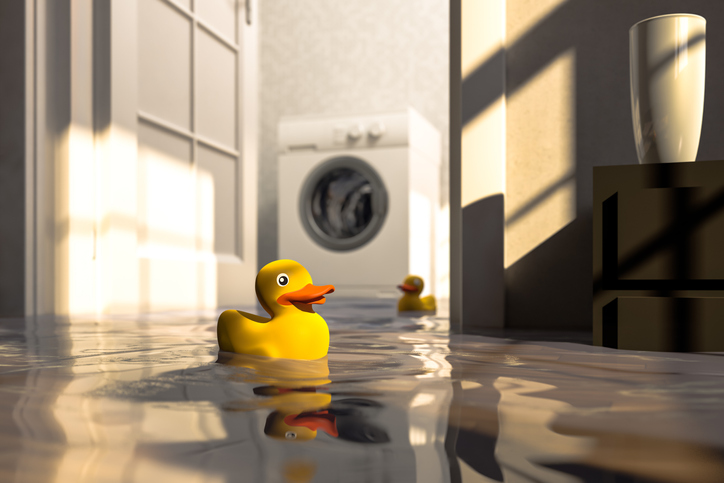 For those of us with basements that are prone to leaking, nothing is more ominous than a heavy rainfall. When water starts seeping into the basement, it can potentially damage a home's foundation, not to mention ruin the belongings and furnishings we often store in the sub-level of our homes. To help ward off the disaster of a basement flood, the plumbing experts at Roto-Rooter offer the following tips:
Seal the Cracks.
Often found in the floors and walls of a basement, cracks and holes are a major source for basement leaks. Such holes are usually the result of the house settling, too much water pressure from the outside of the home or poor construction from the outset. Roto-Rooter advises carefully inspecting your basement for cracks and holes, then sealing them with a waterproof mixture or, better yet, a cement coating. This will help prevent your basement from flooding.
Check the perimeter
. Basement leaks often originate from a home's exterior, so check your gutters and downspouts. If gutters are clogged, there's no place for rain to escape, and pools of water will form around the foundation and eventually seep into cracks and window wells in your basement. So make sure gutters are cleared of all debris. Also, make sure all downspouts are directed away from your home.
Check the sewer pipe.
If you've checked for cracks and holes on both the inside and outside of your home and still can't find anything, you most likely have a hidden leak, such as a cracked sewer pipe. According to Roto-Rooter, this type of leak occurs when the drain is carrying wastewater. Warning signs include a slow drain, a gas odor, and stains or mold on basement walls and ceilings.
Keeping a careful eye on the above areas will help prevent and lessen water damage in your basement. The time and effort will be well worth it.