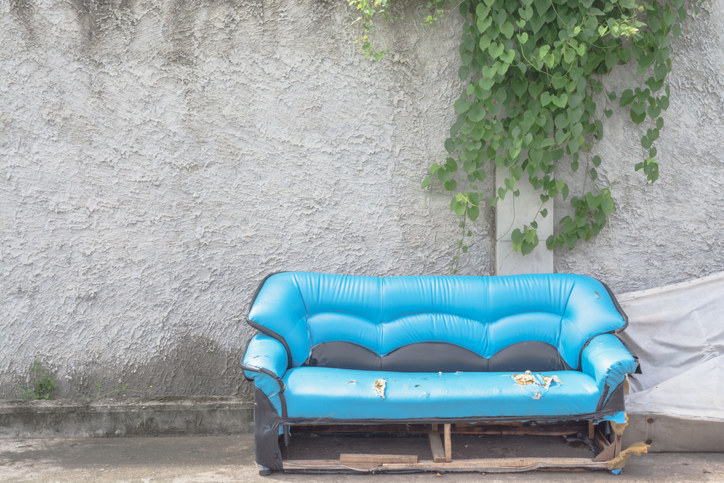 Maybe you're getting ready to downsize, or maybe you've been bitten by a minimalist bug. Whatever the motivation, it's never a bad idea to streamline and get rid of the unnecessary stuff that's cluttering up your life and home.
Unfortunately, we often tend to hold onto certain things - especially big things - because we just don't know how to get rid of them without adding to the ever-growing masses of landfill. Here are some solutions for safely and sustainably removing large items that are no longer needed in your home:
Furniture.
First, check with family and friends to make sure the furniture you no longer want can't be repurposed in the home of someone who's just starting out. Next, hit up the internet and check out local online tag sales or Facebook marketplace. You could also try putting it on the curb with a free sign, or calling your local thrift shop, which might be willing to come pick it up for free. With a little sanding, repainting or reupholstering, the furniture you no longer want could be someone else's treasure.
Electronics
. If you're holding onto old TVs, computers, cell phones, DVD players and the like, it's time to have them stop collecting dust in your home. The first thing to do is make sure all personal information is removed from computers and phones. Next, remove any rechargeable batteries that must be recycled separately. If you're upgrading your electronics, ask if the manufacturer or retailer you're buying from offers a trade-in deal. Amazon has a mail-in option that offers gift cards in exchange for cell phones, e-readers, tablets and Bluetooth speakers. Otherwise, research retailer, electronic recycling programs, such as Best Buy's. You can also check with your municipality to see if it hosts events to help residents get rid of old electronics responsibly. If your electronics are less than five years old, are still functional and don't require any major replacement parts, there are a variety of community organizations that might be happy to accept them as well.
Appliances
. If you've got appliances that you're no longer using, chances are high that a young family member setting up their first apartment will be happy to take them off your hands, so ask around. If not, check with your city or town to see if they have an appliance recycling program - they may even offer free pick-up. You can also try to sell your old clunkers online through Facebook Marketplace or Craigslist. Bear in mind, non-working appliances have potential, too, as they can be stripped for valuable parts. Or, if your older appliance is still working and you just want it out of your home, see if it can be of use at your local non-profit, senior center or veteran's club.
These ideas will free up space in your home, solve a problem for someone else and keep Mother Nature happy at the same time.