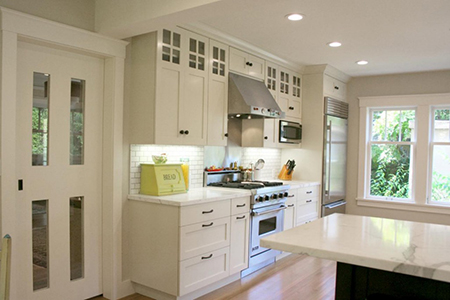 Want to give your kitchen a makeover but also stick to a budget? You may have to skip the custom cabinetry, but a few key changes can make a huge difference. Here are a few cost-effective ideas to freshen up your kitchen.
Swap out the hardware
New hardware isn't expensive, but it can make a big difference in the overall look of your kitchen. Kitchen hardware ranges from rustic to modern, so you won't have a problem finding the perfect addition to your existing decor.
Buy a new faucet
A new faucet is an easy way to create a stunning focal point in your kitchen. Look for a finish and style that works well with your kitchen's aesthetic.
Try a stainless steel laminate backsplash
Many homeowners love the sleek, contemporary look of a stainless steel laminate backsplash. Stainless steel laminate works with most kitchen styles and color schemes, and doesn't cost a fortune to install.
Think outside the box
Don't be afraid to get creative if you're working with a limited budget. Repaint or refinish your old cabinets for an entirely new aesthetic. Or, update your lighting fixtures with stylish, modern replacements.