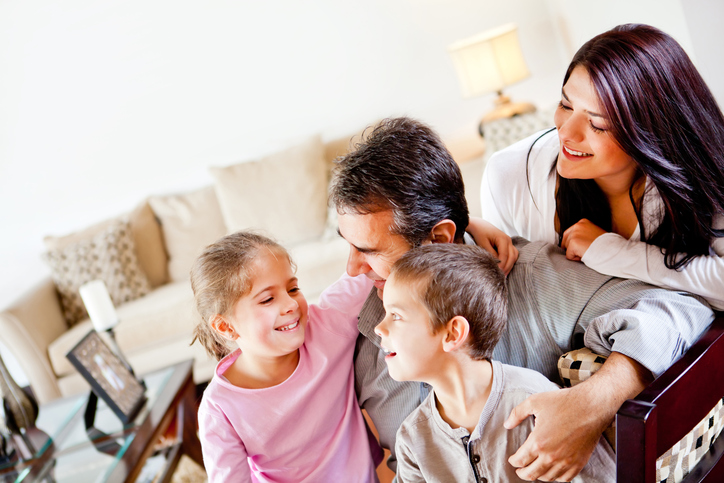 Between busy working parents and overscheduled kids, the concept of family time seems to be barreling toward extinction. But just because everyone's time crunched doesn't mean that family bonding has to suffer—it's a simple matter of quality versus quantity.
According to a study in the Journal of Marriage and Family, the actual amount of time parents spend with children aged 3-11 does not impact what kind of adults they become, and has only a minimal effect on adolescents. However, quality time—time spent where parents are engaged, positive and relaxed—goes a long way in influencing our children. So don't obsess over how little time you have, but rather focus on what you're doing – and how you're behaving - with the time you do have.
Here are some ways to create quality moments with your family with a limited amount of time:
- Today's kids are constantly on the go, moving from one activity to the next. As the saying goes, if you can't beat 'em, join 'em, so volunteer to drive whenever you can. Those short trips around town provide a private moment with your child to check in, catch up and see what might be on their minds.
- While we know the big-picture goal is to reduce the amount of screens in our lives, a little couch-potato time with your kids can actually be a great bonding experience. Sit down and cuddle with the little ones while they're watching cartoons, adding your insights along the way. With adolescents and teens, pick a series to binge-watch together and discuss your favorite characters and plot twists. The key here is to engage with your children, not glaze over and doze off.
- If there's one thing that unites families, it's food. Involve your kids in meal prep – give them a chore they'll find fun, like cracking eggs or mixing batter for younger kids, or chopping veggies and grilling burgers for older children. Cooking together creates a non-threatening environment for conversation – but only if you avoid micromanaging your child's cooking skills. Critiquing is not conducive to bonding.
- Get out of the house together. When you're a busy working parent, it's easy for your weekends to be consumed with chores and appointments, but it's critical to carve out time for a brief family outing, even if it's a quick trip to the dog park. Getting out from under the crushing to-do list at home frees your mind to truly be present with your kids, so make this time sacred.
- Nothing says quality family time like getting the extended family together. Kids love seeing grandparents, aunts, uncles and cousins, so invite them over or make a road trip to visit.
- While cuddling up with your young children to read them a bed-time story is a favorite early childhood bonding moment, there's no reason you can't maintain a nighttime ritual as your kids get older. Knock on their door, ask for a hug and tell them you love them. Ask them what they have on their plate for the next day and see if they need a ride or your help with anything. If you have older teens and you're going to bed before they're even home, ask them to text you when they get in and send them a good night text in return. These simple rituals keep the connection in place for years to come.
Stay tuned for more tips on life at home, as well as trends in real estate.