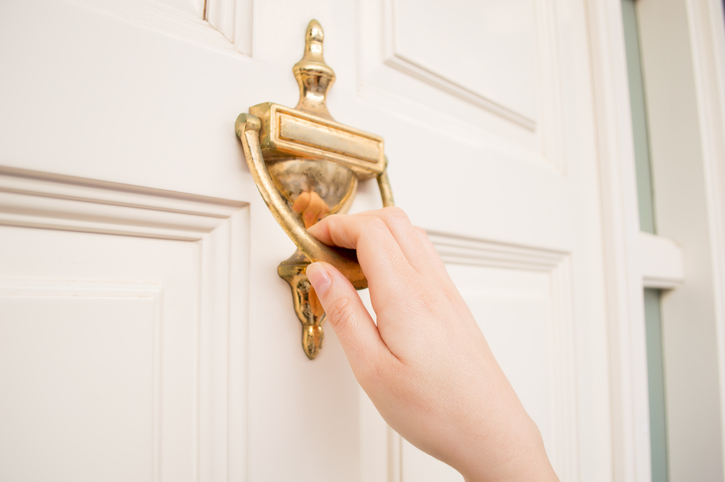 While some door-to-door salespeople may be reputable, hard-working professionals, others are less ethical and looking to swindle you out of your signature on a contract. According to the Connecticut Better Business Bureau (BBB), such scammers are usually armed with a clipboard and some sort of identification. Before opening the door, insist they pass their identification information to you so that you can verify their legitimacy.
The BBB advises keeping an eye out for the following front-door frauds:
- Pavers will claim they have material left over from another job in the neighborhood and offer a "today only" cut-rate discount. According to the BBB, the "discount" is usually just a ploy to get you to seal the deal and the result is substandard labor and materials. You may also be asked to make a deposit. Once you do, workers may start the work and subsequently disappear with your money.
- Deceptive sales tactics are another common door-to-door tactic, the most common being trying to sign-up consumers with electricity wholesalers or alarm monitoring services. These scammers may try to convince you to switch by saying that the company that monitors your alarm system is out of business, when in fact, it is not.
- Beware of door-to-door contractors who may be unlicensed, uninsured and unqualified to do the work they offer. Roofing contractors may make false claims that major repairs are necessary or that the roof needs replacement.
- The BBB receives numerous complaints about door-to-door alarm salespeople who sell burglar alarms but fail to disclose terms of the monitoring contract, perform shoddy work and give inadequate instructions on how to use the system.
Here are some tips from the BBB to protect yourself from the above scams and others:
Avoid making an immediate decision
to buy something or sign a contract for a service. Check out the company's credentials before committing.
Do your research.
Check with the BBB to find out if the company the salesperson is representing actually exists, and is qualified, insured and licensed to do business in your state. A legitimate company or professional will gladly provide such proof, and give you as much time as you need to do your research and make a sound buying decision.
If you need work done, services or goods,
select an accredited business yourself at bbb.org. This will allow you to see what other consumers' experience was like with the company or individual.
Remember that safety is paramount.
Some door-knockers are simply trying to determine whether anyone is home, with the intent to break and enter. Don't allow anyone inside your home.
Don't hesitate to call the police when warranted.
Tell police if there is anything suspicious about the seller, such as their inability to provide proper identification, refusal to leave your property when asked or other unusual behavior.
Having the above knowledge will keep you and your family safe.
Source: Connecticut Better Business Bureau