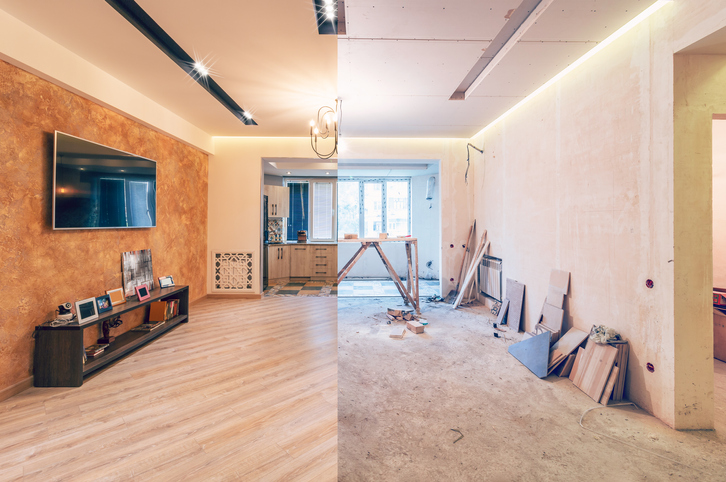 Completing a home renovation project is so exciting. The new space or enhancement you've been dreaming about for months is now a reality.
But what about that mess? Nothing quite compares to the post-construction havoc a renovation can cause in your home. According to the ServiceMaster blog, your primary focus should be removing the dust created by just about every home improvement project, which has an insidious way of sneaking into the most random nooks and crannies. If dust isn't dealt with promptly, it will make its way into your air ducts, creating a health hazard for you and your family.
ServiceMaster Clean® offers the following checklist to get through the construction clean-up process quickly and effectively.
Vacuum Carpets and Upholstery
Vacuum all soft surfaces, removing and vacuuming each cushion and getting into the crevices of the furniture frame. It's probably a good idea to give it a second round, too.
Wipe Down Hard Surfaces
Clean surfaces from the top down, starting with the dust that has accumulated on your walls. Dry dusting will ensure paint and wallpaper won't be damaged, but a damp cloth will remove dust faster. Check with your paint or wallpaper manufacturer to see if it will tolerate a little moisture and test a small area to be safe.
Next, move onto moldings and cabinets using a duster. Make sure to target the interior shelves and hard-to-reach corners. Wipe off countertops and any other flat surfaces before tackling the floor. Then sweep and mop the entire surface area.
Clean Air Vents and Replace Filters
If your project is of a larger scale, it's likely that dust has made its way into your vents. Treating the air vents in the renovated area is critical for preventing the dust from spreading to other areas of your home. Here's how:
- Remove the vent covers from the surrounding walls and ceilings
- Clean each one with soap and warm water, and let them dry thoroughly
- Replace any exposed air filters with fresh ones before replacing the vent covers
Don't Forget About the Little Things
Remember, dust gets everywhere, so remember to clean these areas as well:
- Ceiling fan blades
- Light fixtures
- Lamp shades
- Electronics
- Small appliances
- Decorative items