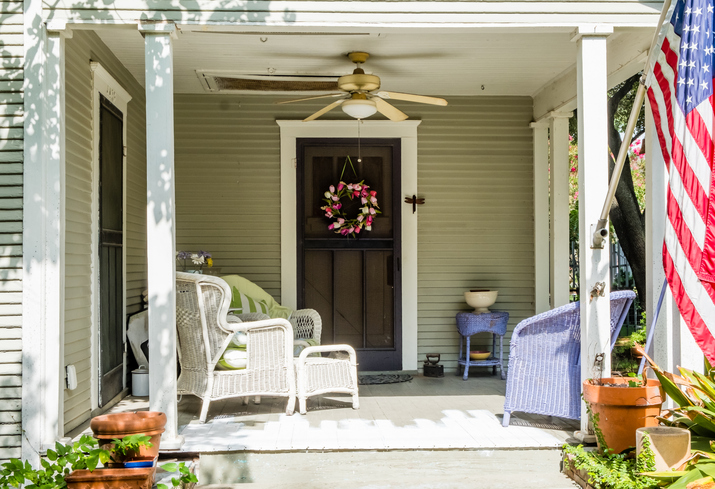 If there's one design element we don't change very often, it's our home's exterior paint color. After all, a quality paint job should last 10 years in the right climate. But the problem is, all that sameness can get boring. The solution? A small dose of color in the right places.
According to design expert Debbie ZImmer with the Paint Quality Institute, a "pinch of a new paint color here and there" is all you need to make your home's exterior more interesting.
Zimmer recommends starting at the front door. "It's usually visible from the street so everyone sees it, and it's also where visitors first come face to face with your home." The best way to add visual interest is by painting your front door a color that contrasts sharply with the rest of the exterior. Think bright red or deep green, or even black. Bonus points: dark colors are better at hiding dirt and fingerprints.
Another great way to shake things up with color is by painting the shutters. While shutters are often painted the same color as the front door, it's more important that they work well with the color of your siding. Choose a color that complements or contrasts. For inspiration, take a spin around your neighborhood or towns where you really love the design of the homes. Take notes on shutter colors you like and how they play against the home's exterior.
If you have a home that has interesting architectural elements, such as gingerbread on Victorian homes or unique trim around doors and windows, this is a great chance to add interest with color. Paint these decorative touches a bright or unusual color to liven up the entire look of your home.
Zimmer recommends a few other great places to add pops of color to your home, like the porch, deck furniture, wooden fence or even a birdhouse or doghouse. A bright or unusual hue in an unexpected spot can change the entire look and feel of your home.
If you get overwhelmed by the amount of colors to choose from, Zimmer advises borrowing ideas from the brochures at your local paint store. "These often show color schemes with four or five hues that work beautifully together," she says. "Find a palette that contains a color similar to your siding, then choose accent colors from the same palette for your doors, shutters, and trim."
For more advice on exterior color and tips on painting, visit the Paint Quality Institute online at blog.paintquality.com.