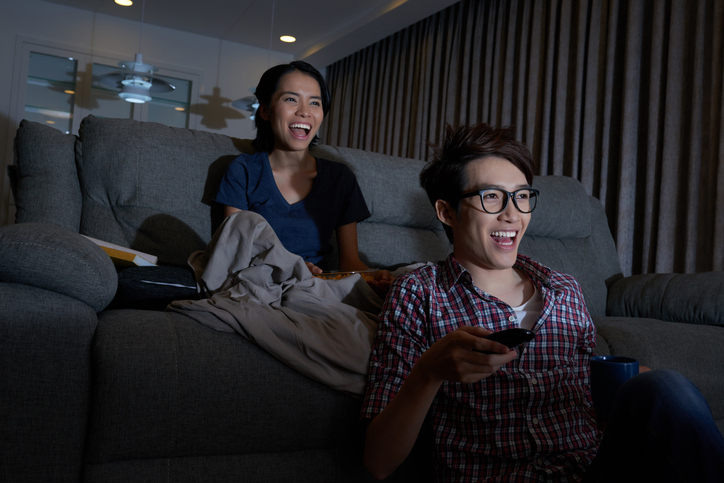 Whether it's inhospitable weather, little ones to look after or a tight budget, a big night out on the town just might not be in the cards this weekend. And that's nothing to be bummed out about. Here are some great ways to enjoy a memorable evening without ever leaving the driveway.
Double feature.
Remember when movie theaters used to offer double features? What's now a thing of the past at the multiplex, can become your own special cinematic experience right at home. Do a back-to-back filming of your favorite sequel, a twofer from your favorite actor or director, or shake things up with two completely different genres, like horror followed by comedy. Keep the popcorn and beverage of choice flowing, and settle in for some cinephile fun.
5-star dining.
You don't need a trendy restaurant to enjoy fine dining - you can recreate the experience right in your own home. If you like to cook, pull out those special recipes you've been waiting to try and shop in advance. If your chef skills aren't up to par, order in - even the best restaurants will prepare meals to-go these days and you can often have them delivered via Grubhub or UberEats. Set the mood by dressing the dining room with nice linens and your best china, add candles, your favorite music and dress up a little, too. Then linger between courses as you would when dining out, making sure to enjoy dessert and an after-dinner drink or espresso.
Happy hour.
If blowing off steam at the local watering hole is your idea of fun, capture the experience at home. Stock up on your favorite craft beer, wings, pizza or bar food of choice, and crank up the tunes. If you have a pool table, dart board or karaoke machine, tonight's the night to put them to use. If not, try Pictionary, charades, or any number of lively trivia games. Invite the neighbors over to step up the pub-like camaraderie.
Craft night.
Recreate the popularity of that local painting or pottery joint right in your own home. Go online and pick a painting or craft project that looks fun but not too difficult, stock up on the supplies you'll need, lay some drop clothes, open the wine, and have at it! This is a great activity for a couple, a few friends, or the family (minus the wine, of course!).
With a little creativity and planning, a fun night can happen right within the comfort and coziness of your own home.