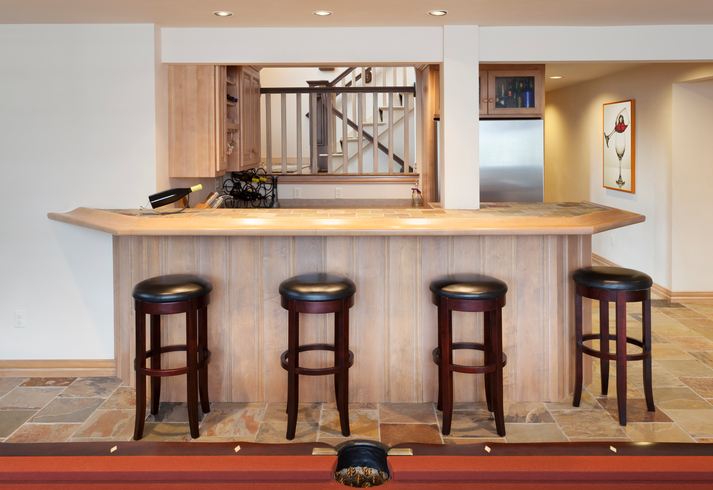 George Morse, writing for AAA, points to a 2017 Remodeling Impact Report by the National Association of REALTORS® that showed nearly two-thirds of homeowners enjoyed their homes more after completing remodeling projects.
Morse references a remark by Angie Hicks, co-founder of home services website Angie's List and COO of ANGI Homeservices, who observed that as more people stay put instead of moving, basement remodels have been an increasing trend.
Many have turned their basements into additional living space, with an average remodel price tag of $28,000, according to Angie's List.
Peter Vay, another AAA expert, says that anyone considering a basement improvement must understand the unique challenges of the space and plan accordingly.
Before any work begins, Vay notes that it's critical to check with your local town to see if a permit is required for basement renovations. It's also an ideal time to address any water issues that may pose problems as the renovation gets underway.
Once these items have been taken care of, it's time to plan out your renovation. For Vay, crafting a finished basement into a coherent and organized space is all about separating the area into zones that can be used for different activities. If you're not sure where to start, Vay suggests taking cues from the large beams already in the space, as they will act as good markers to designate areas for play, rest, watching TV and anything else you choose to use the space for.
Vay also notes that it's important to consider the look of the finished space and incorporate items that will make it look more appealing and natural. One way to do this is to have a dropped ceiling that will hide any unsightly pipes or ducts.
And since basements tend to trend on the cooler side, Vay suggests incorporating in-floor radiant-heating into the mix in order to spread warmth evenly through the space. Another option to consider is baseboard heating along the walls. Then, toss down some fluffy rugs to help warm the space up even more.
While a basement renovation can work wonders when it comes to adding more square footage to your living
space, don't cross the idea off your list entirely if your basement is on the smaller side.
According to Sebring Design Build in Naperville, Ill., a small basement can serve multiple uses:
- Set up a small library that also serves as your home office
- Make a lounge area that acts as a play space for the kids during the day and a TV room for adults
- Create individual bedroom and lounge areas by using a room divider to set the spaces apart
And last, but not least, don't overthink it. While something as simple as a bookcase can serve as a temporary room divider, a simple, stylish sliding barn door can be functional and extremely complimentary to the space, according to the folks at Sebring Design Build.