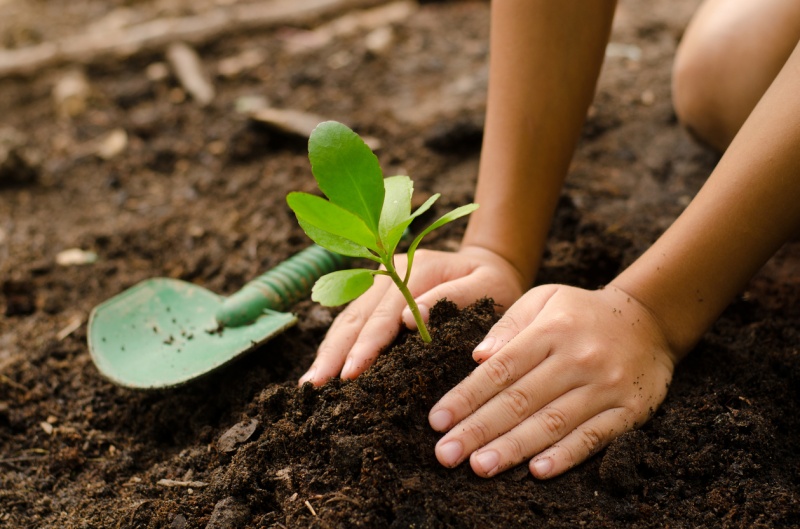 While nothing dramatically changes your landscape as much as a new tree, trees also pose one of the most difficult challenges in terms of planting. Follow these guideline from the Tree Care Industry Association (TCIA) to ensure your tree enjoys a long, healthy life in its new home:
Measure the height and diameter of the root ball or root spread.
Dig the hole just deep enough to allow the first structural root to be at a level grade. The diameter of the hole should be two to three times the diameter of the root ball or root spread.
Set the tree on undisturbed solid ground in the center of the hole. The tree should be planted so that the root flare, the base of the tree trunk where the roots begin to "flare-out," will be visible above grade.
Backfill with soil from the planting hole, using water to pack or settle the soil around the root ball. Do not tamp soil by stepping on it.
Mulch the planting area with 2 - 4 inches of an organic, composted mulch, such as wood chips. Do not mulch up to or against the trunk. Start the mulch six inches away from the tree trunk.
Trees should be pruned after planting to remove broken, damaged, diseased or dead branches.
Stake and/or protect the trunk of the tree if there's a real potential for wind damage or lawn-mower injury. Remove the string, rope, wire or other ties used with supports when the staking is no longer needed or the tree could be injured or even killed from girdling by the wire.
Prune to develop a good branch structure once the tree has become established in its new home, usually one to three years after planting. Never remove more than 25 percent of total foliage in one year.
Fertilizing is not recommended at the time of planting.
Find a Professional
A professional arborist can assess your landscape and work with you to determine the best care for your trees. Contact the Tree Care Industry Association (TCIA), a public and professional resource on trees and arboriculture since 1938. TCIA has more than 2,300 member tree care firms and affiliated companies who recognize stringent safety and performance standards and who are required to carry liability insurance. TCIA also has the nation's only accreditation program that helps consumers find tree care companies that have been inspected and accredited based on: adherence to industry standards for quality and safety; maintenance of trained, professional staff; and dedication to ethics and quality in business practices. For more information, visit www.tcia.org or www.treecaretips.org.
An easy way to find a tree care service provider in your area is to use the "Locate Your Local TCIA Member Companies" program. You can use this service by calling 1-800-733-2622 or by doing a zip code search on www.treecaretips.org.
If you'd like more homeowner information, please contact me.