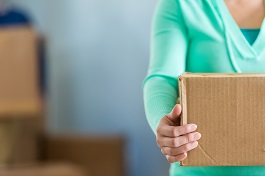 Need to Downsize? Make a Little Money in the Process
If you're getting ready to downsize, or are settling the estate of a loved one, you will be confronted with the often overwhelming task of getting rid of furniture and belongings. These tips from MaxSold will not only help you streamline the process, but possibly bring in some money along the way:

Decide What to Keep
The KonMari Method of decluttering from Marie Kondo offers the sage advice of keeping those items that bring you joy and that you also have room for. If an item doesn't fall into both of these categories, set it aside in a separate room or designated nook of the house.

Don't Go Straight to the Dump
Instead of adding to landfills, try to recover money for your unwanted items. What may be "junk" in your eyes is just the thing someone else may be looking for, whether it's a broken-in easy chair or a box of extension cords.

Take Your Time with High-Value Items
If you're getting rid of something that truly has value, take your time and price it right. If you post an ad online and get an instant response, you might have underpriced the item. Conversely, if you're getting no responses, you may have priced your item too high. Auction sites—like MaxSold—might be the best option, as they encourage bidding, and therefore, a good price for your prized possession.

Avoid Storage
If you can't get the price you think an item deserves, you may think storage is a good option while you hold out for the right price. However, this strategy usually ends up costing you more, as you pay potentially thousands for storage while your item depreciates in value. Unless you have a family member to give it to, a better financial decision is to get it sold.

Research Online Sales Sites
When looking for the right site to sell your items through, do your research. Choose a company with proven methodologies, good online reviews and a process that eliminates security risk.

Source: MaxSold

For more tips on bringing in money as you downsize, contact me today.