Staging for a Virtual Home Tour
By Barbara Pronin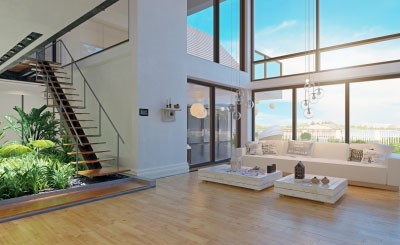 With COVID-19 safety protocols in place for the foreseeable future, real estate professionals and their clients must often depend on detailed and engaging virtual home tours to show a home at its best and help buyers make critical decisions.

In some respects, staging a home for a cyber showing, whether on Zoom, Facetime or another platform, is not much different from staging for a personal tour. Clear the clutter. Turn on the lights. Be sure everything looks clean.

With 3D walkthroughs and video chat options available, potential buyers can still interact with you as they explore the home's nooks and crannies. Here's where savvy pre-staging can make a difference:
Mind with the entry - Curb appeal is always important, and even more so for the video viewer. Be sure the lawn is mowed and the front door is clean and inviting. Does the entry need a pot of colorful flowers or a more attractive welcome mat? Even if the home is typically entered through a side door or garage, highlight an attractive front entryway.
Declutter more seriously - A space captured on video tends to look more jumbled than it does when viewed in person. Remove or rearrange furniture to leave as much open walking space as possible. Stow away larger knick-knacks and be sure kitchen and bathroom counters are clear and inviting.
Set the table - If the home features a lovely formal dining room or an adorable kitchen eating area, make the most of it with appropriate table settings.
Clear out the hidden spaces - Viewers will want to see the insides of cabinets and closets. Clear out some hanging garments in a crammed closet to give it a sense of spaciousness. Remove a jumble of cleaning supplies from under-sink cabinets. Be sure the pantry looks neat and orderly.
Highlight the view and garden - Outdoor spaces are a major selling point. Arrange patios and outdoor furniture to show them at their best. Stage a picnic table near the barbecue grill. Take your time showing off the view. On a small patio, a few added pots of flowers or plants can add interest and ambience.
Keep security in mind - As you would for a personal tour, be careful not to expose security system set-ups, gun safes, or expensive personal property such as an elaborate jewelry box.
Barbara Pronin is an award-winning writer based in Orange County, Calif. A former news editor with more than 30 years of experience in journalism and corporate communications, she has specialized in real estate topics for over a decade.

Click on any icon below to share this article:
RISMedia welcomes your questions and comments. Send your e-mail to: realestatemagazinefeedback@rismedia.com.
Copyright© 2021 RISMedia, The Leader in Real Estate Information Systems and Real Estate News. All Rights Reserved. This material may not be republished without permission.