9 Tips for Preventing Video Call Fatigue
By Barbara Pronin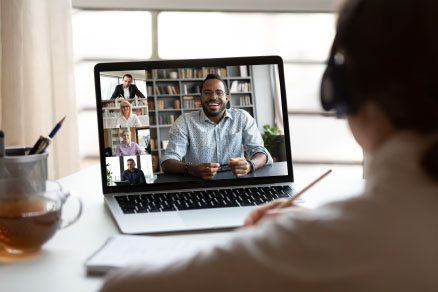 Recent surveys report about a third of American workers are currently working from home because of the COVID-19 pandemic. While many would happily trade office camaraderie and in-person meetings for the chance to work remotely, the overwhelming number of Zoom and Microsoft Teams meetings are also leaving many exhausted. In fact, there are more than 81 million results on Google search pages for 'video call fatigue.'

Since our company has shifted to working more remotely, wanted to share a few 'best practice' tips for avoiding video call fatigue with our colleagues:
Evaluate the importance, frequency and length of video meetings - Don't hold them for tradition's sake alone. If you only need 15 minutes, schedule only that slot of time.
Before scheduling a video meeting, consider other options - For example, the Microsoft Teams 'send a chat' or 'work on a file together' features can encourage and facilitate collaboration by other means.
Make the time invested in video calls feel productive - Begin by stating the clear objective for the meeting and, if others will speak, assigning a designated order can help relieve stress about when to chime in.
Part of video fatigue comes from absorbing many faces and non-verbal cues - For larger meetings, turn off your camera when you are not speaking and focus only on the person speaking. (In Microsoft Teams, use the pin feature.)
Use the phone to take a break from the video screen - Make some conference calls audio only, or designate them as 'walk and talk,' so attendees know they can be screen-free.
Help attendees transition between meetings - Build in break times by ending meetings a few minutes early or keeping them shorter than scheduled when possible.
Build in video-free hours - Avoid scheduling meetings before 9 a.m. and after 4 p.m., and avoid noon and 1 p.m. to allow for a lunch break.
Here are a couple of additional tips to help reduce stress for frequent video meeting attendees:
Avoid too much multi-tasking - Trying to be 'on a call' while also trying to email, text or chat makes us more exhausted at the end of the day because the brain is processing too much stimuli at once.
Escape your four walls and the computer screen - When making or taking business phone calls, go outside or into a different room just to enjoy a change of scenery.
Barbara Pronin is an award-winning writer based in Orange County, Calif. A former news editor with more than 30 years of experience in journalism and corporate communications, she has specialized in real estate topics for over a decade.

Click on any icon below to share this article:
RISMedia welcomes your questions and comments. Send your e-mail to: realestatemagazinefeedback@rismedia.com.
Copyright© 2021 RISMedia, The Leader in Real Estate Information Systems and Real Estate News. All Rights Reserved. This material may not be republished without permission.